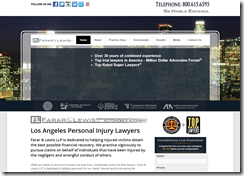 Any kind of lawyer web sites needs to be easy to navigate, user friendly and easy to read.
Let's face it, if you're navigating the web site of a Law Firm, there's a reason – there is some form of worry or distress behind the need to visit.
Information on any site should be right there at hand but in the case of "emergency" sites easy navigation is even more important.
I took a look at the Farar & Lewis LLP site today and found a really nice, user friendly design.
Farar and Lewis has over 30 years of combined experience  and are one of the top trial lawyers in America.   How do I know?  It says it right at the top of the site

You don't have to navigate away from the front page to find a number or other methods of contact for the firm – there's a contact form for a free, confidential evaluation form attached to the side of every page.
The many accolades and testimonials are all over the site, yet not overly obtrusive – giving the visitor some solace that the firm is reputable and recognized.
In all, a well designed site and a fine use of WordPress.
Check out Farar & Lewis LLP at FararLaw.com