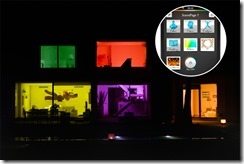 It may seem like something of a fad at the moment but there are so many exciting possibilities in home automation right now and there's so much more to come.
I work in IT and Emergency Services – it is sadly rare that the two meet, but why shouldn't they?
The Philips Hue

is a "Personal Wireless Lighting" kit – essentially, wireless (WIFI), LED, color changeable light bulbs.  Once installed, from your Smart Phone –  you can turn on/off (of course) the lights around your home, change the colors of your home lighting, automate, dim, brighten and more.
You can do this with all of the bulbs, different zones or individually.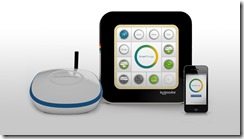 Smartthings

started out as a Kickstarter project and quickly flourished into a very popular home automation system.  There's a central hub and a variety of sensors that can be placed inside and outside of your home to do different things.
Of course, you can control all things Smartthings from your Smart Phone too.
The great thing about the Smartthings system is that it is becoming something of a standard, with other companies (like GE and Schlage) making compatible sensors and devices.
IFTTT (If this, then that) is a web based logic system. "IFTTT is a service that lets you create powerful connections with one simple statement: if this then that".
Basically, if something happens, then make something else do something. I suppose.
For example, if I take a picture with my iPhone, send it to my Dropbox. Or, if there is going to be a storm, send a text message to my phone.  Things like that – or whatever recipe (the statements are called recipes) you can cook up.
ok, great – three geeky, maybe a little expensive, gadgets – each in their own right pretty nifty but what good are they really?
Well, let's combine the three.
How about:
"If my window sensor trips, turn on all the lights"
"If the moisture/water sensor in my basement trips, then send me a message"
"If my fire alarm trips, turn on all the lights and unlock my doors" (at the very least)
"If my trip/fall/panic pendant trips, then turn on the lights, unlock the back door, and flash the porch light red" (so that the Ambulance can find your house and get in to it).
"If there's a severe warning, then shift my lighting scheme to red"
I look at some of the user-created IFTTT recipes and thing that they're kind of cool but I'd likely never use them. I don't want my lights to blink whenever I'm tagged in a Facebook post or when my favorite sports team scores. However, given the right system, or combination of systems, I can see home automation really making a difference around the house.
The possibilities are truly endless, and could be quite life changing
Related articles