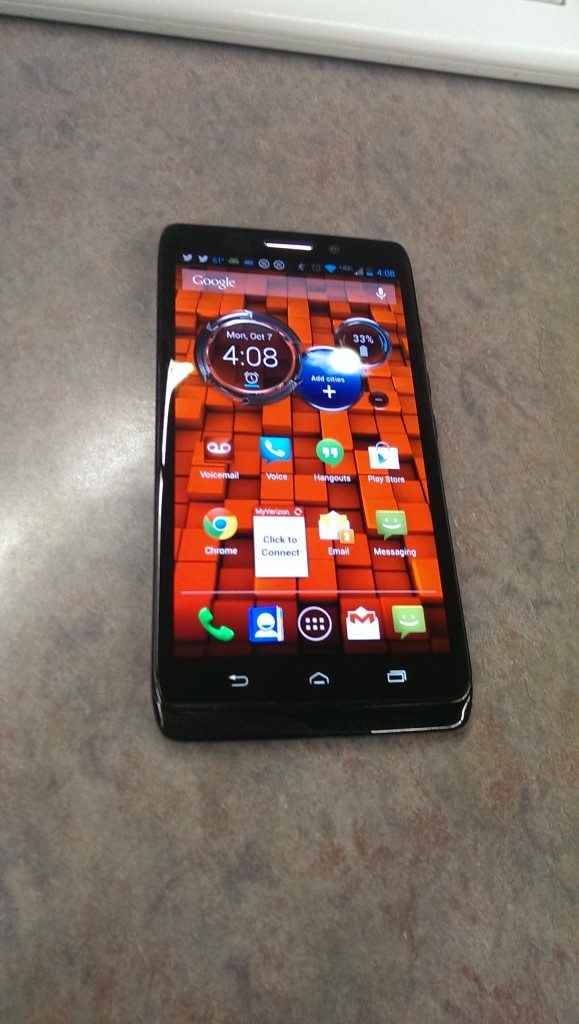 Seems like we just had an influx of new phones come on the market. Which one to choose? Well if you're looking at the Motorola Ultra as one of your choices check out the review and see if it's the phone for you.
The Morotola Ultra is one of the newest Motorola phones for Verizon Wireless. The phone features a 5″ screen with  a pixel density of 294 ppi. The resolution is 720 x 1280 and features a light sensor and proximity sensor.  This makes for not only great internet browsing, but also great movie watching. You can watch your favorite YouTube cat video's or even your favorite Marvel movie. The screen is very bright and offers easy viewing even out in the sun.
The Ultra is powered by a Dual Core Snapdragon S4 Pro  chip that is clocked to 1700 MHZ. This gives you all the processing speed you need with no lag during all your games of Angry Birds. There is 2GB of system memory that also helps keep your phone lag free and 16GB of internal storage for all your photos and video's. Unfortunately there is no microSD slot to expand your memory.
The body of the phone is very durable as it is made from Kevlar. The same material that bullet proof vests are made out of. It also gives the phone a very nice look.
The phone features two camera's both a front and rear facing. The rear facing camera is 10MP and has auto focus and an LED Flash. The phone features a burst mode that if you hold your finger to the screen the ULTRA will take multiple pictures in rapid sequence.  The camcorder will record 1080p HD at 60 frames per second. Both photo's and video are stunning on this phone. The front camera is 2MP and works great for Skype, Google Hangout, or OoVoO Chats.
The Ultra is powered by a 2130 mAh battery that they say will last for 13 days on standby.  We all know that no one just leaves there smartphone sitting unused for 13 days. During my use with moderate to heavy use, I could muster out about 8 hours from the battery.
One of the features of the Ultra I really like is the Active Display. When your screen is off you would either need to wake up your phone or have and annoying light flashing to see if you have any messages. With Active Display, the screen has a dim white icon that flashes every few seconds that will alert you to the time, if you have any alerts, and what the alerts are from, be it text, Twitter, Facebook, or Email.  Another features is Droid Zap. This feature allows you to "Zap" files and photos to another Android Device. You can use your voice to control your phones features such as setting reminders, making calls, and even looking something up.
With the Command Center on your Motorola Ultra you have instant access to thing that matter most, Battery life, Weather, Time, Wireless Display settings, and your Settings button.
Price for the Motorola Ultra is $199.66 with a new 2 year agreement, $0 down and $25.22 a month on a Verizon Edge Plan, or $599.99 with no contract.
Overall the Motorola Ultra is a great phone from Google and VZW. Decent battery life, great looking screen, and multiple features make this one phone you want to check out when upgrading or switching to the Nations most Reliable Network.