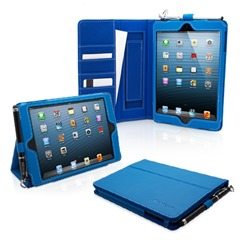 There are a lot of iPad (and other mobile device) cases out there.  It seems that anyone and everyone is making them. What sets the cases, and the companies that make them apart?
I've had an iPad Mini since they came out. Because it was an option, I needed something at the time and because there weren't many other options when the device was first released, I threw the standard Apple iPad folding cover into my virtual shopping cart and checked out.
The cover did ok.  While it's not a case, it did do a fine job of protecting the screen. It flipped back and forth nicely, held in place, propped the iPad when it needed to – and that was about all.
However, because my iPad spends a lot of time standing, on its case, I found recently that the rubber hinge had stretched out.  There were stretch marks in the rubber and the cover didn't fit quite right – don't get me wrong, it still did its job, just not quite right.   I do like right.
So, I got on Amazon and checked out cases, and picked up a cheap and cheerful leather case which was nice but it didn't stand too well though the case did have a "stand hinge" in it, the necessary second hinge just wasn't there to give it enough of a footprint to stand on its own.
Somewhat serendipitously, Snugg came to my rescue.   A very nice looking Snugg iPad mini Executive Leather Case Cover and flip stand, in Electric Blue arrived in the mail and quite literally within moments, I had stripped my iPad and dressed it in the Snugg.
It really is a nice case!
Blue is a different color for a case to begin with, and it is just one of 14 colors in the Snugg collection.
The leather is different too – that soft, friendly kind. Sturdy, white stitching, a pen/stylus holder (that I'll likely never use), a number of business card holders, a handle and a pocket. The magnet in the cover holds it closed nicely and puts your iPad to sleep when closed.
And it stands!  Yes, I know that this is something of a first World problem, "wah, my iPad mini won't stand up in its leather case" but it is a valid issue if that is exactly what you need it to do.
While I've only had the case for a few days, my devices do take quite a daily beating.  The case really is holding up.
So, how much and what makes Snugg different?  Just a look at TheSnugg.com should show you.   There is labeling all over the site, telling you about the Lifetime Guarantee, Quality Promise, Excellent Customer Service, fuss free returns and more.
Even getting the case out of its packaging, you know you've invested in a quality product.
The site is friendly, and easy to navigate.   With just a couple of clicks, you can find the case you're looking for.
I've tested customer service and they really are responsive.
The cost? my leather case lists on the site for $44.99.  This may be a little pricey as far as other cases go, but I'd say it is well worth it for the quality of case with the service and guarantee that backs it.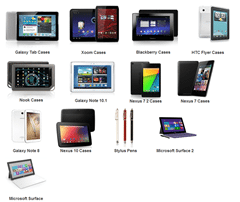 Snugg doesn't only make iPad cases either – the site is filled with Galaxy, Xoom, Blackberry, HTC, Nook, Kindle, Nexus, Microsoft Surface cases, accessories, batteries, keyboards, stylus' and more.
All quality, all guaranteed.
Find out more:
Check out TheSnugg.com
Follow @TheSnugg on Twitter
Like Snugg on Facebook
Related articles