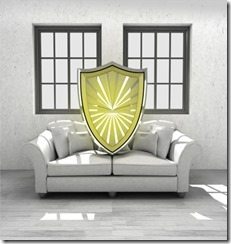 The FBI's 2012 crime report found that 8,975,438 property crimes occurred nationwide in 2012. While this does represent a decline in property crimes of 3.7 percent compared with 2011 statistics, the effects can be devastating. Excluding arson, property crime victims suffered losses totaling $15.5 billion in 2012. With your life savings and valuables at risk from property crime, what will it take to feel safe in your home? Explore the newest home security devices and get actionable information about how these systems can work together to protect your home. According to www.homesecuritysystem.com, home automation can mean different things depending on the provider — from turning off your lights remotely to locking your doors.
Smartphone Security Devices
The Canary home security system puts home alarm, weather updates and indoor surveillance on your smartphone. Because you don't have to install anything to use Canary, it's the perfect security tool for apartment dwellers and renters who may not be able to install other home security devices. To get started, connect Canary to your home's wifi and receive instant notifications if movement occurs in your home when you're not there or the temperature changes unexpectedly, signaling that something may be wrong. Canary launched on crowdsourcing site Indiegogo and packages begin at $200.
Traditional home alarm systems are adapting their technology to work with smartphones, too. For example, some security companies offer remote home monitoring via smartphone or iPad. ADT suggests using your phone or tablet to adjust your lights and thermostat, activate or deactivate your security system, view security footage, adjust security system settings and set alert criteria to receive instant notification of certain incidents.
Wireless Home Security Systems
Some wireless security systems do it all. LifeShield offers a home security system that provides safety monitoring, fire and carbon monoxide alerts. Set up profiles and custom codes for your house cleaner, dog walker or nanny, then check the system to see if the dog walker failed to show up. LifeShield's system also allows for smartphone and tablet access. Because the system is wireless, it's easy to set up yourself in approximately an hour, doesn't require you to put holes in the wall and can move when you move. This type of system is also ideal for renters, who do not need a permanent home security system. It is also completely scalable and can be adapted from a studio apartment up to a coastal mansion by adding grid extenders, keypads and sensors. (4)
Surveillance Cameras
While surveillance cameras are not new in and of themselves, new developments have brought greater resolution to these cameras as homeowners can choose between megapixel surveillance cameras and high definition cameras. Paired with video analytics that help users detect home security issues faster, the next generation of surveillance camera offer insights that can help homeowners recover from a break in and will certainly give thieves pause before entering. Heatmapping technology can illustrate where thieves moved through the scene and how they entered. Hemispheric cameras show the full contours of a room, without any blind spots. No mater how careful a criminal thinks he is being, the camera will show his path through your home and may provide police with ample evidence to find the person responsible. (5)