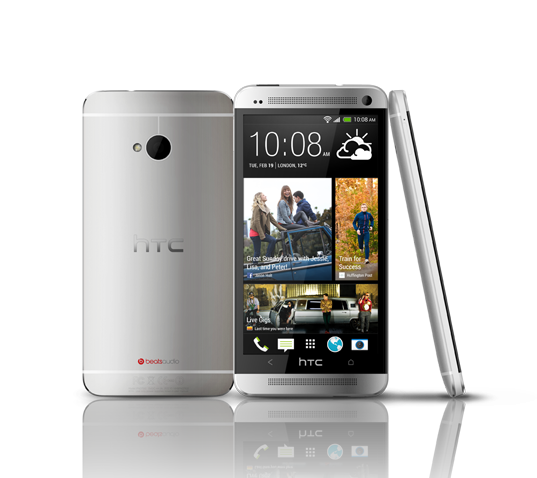 The HTC One for Verizon Wireless is the newest HTC Device for the network. The One has stylish looks, and a great feeling and good looking metal case. Should you choose this as your next phone? Take a look at what I thought about it.
I've always been a fan of HTC Phones. From the Thunderbolt to the Incredible to the DNA and now the One.  The ONE is a great improvement on all of those.
The HTC One is featured packed and includes a 4.7″ screen, dual front facing speakers, an all aluminium body,and an all new home screen that keeps you in the know with just a quick look
The screen is a 4.7″ S-LCD 3 screen. This gives you a superior looking picture for both movies and just viewing your pictures. The resolution is 1080 x 1920 with a pixel density of 448 ppi. (pixel's per inch). That's over 100 more pixel's per inch than the iPhone 5S.  As of right now that is some of the best specs for a screen on the market. The specs are proven when you use the One and are watching movies or videos. The touchscreen accepts multi-touch input and has a light sensor and proximity sensor.
Keeping the One running is a Quad Core Snapdragon Processor. No worries about your apps running slow or having any lag while playing. You can even run app's in the background and still keep playing your games and videos with no issues. Along with this processor you have 2 GB of RAM that helps out to keep things running smoothly.  Keeping most of you media files on the phone is no problem with 32GB of built-in storage.  Only downside here is the fact that there is no microSD slot to expand your memory.
The battery that keeps the One going is a 2300 mAh Lithium-Ion battery (Li-ion). Stated battery life per the Verizon site is 11.4 hours. With my heavy use, I was achieving 8 hours. Standby time is 10.8 days. The HTC One has a sealed battery so no running out and buying extended batteries for this one.
There are two cameras on the One. The front facing one is 2.1 MP so all of your Facebook profile photos will all look so good, no one will notice your duck face. The rear facing camera is of the UltraPixel with HTC Zoe variety. The aperture is F2.0 with a 28mm focal point. You can record video's in 1080p HD at a resolution of 1920 x 1080. Now all you home movies can be taken on your smart phone. No need for a standalone camcorder anymore.
The HTC One also features Bluetooth v4.0, NFC, Wi-Fi 802.11 a/b/g/n/ac on 2.4GHZ and 5GHz, and runs on Verizon's blazing fast 4G LTE Network.
The new HTC Blink Feed home screen lets you choose what you want to see streamed to your home screen. Facebook is set by default, but you can change or add to that. Never have to open up your app again to see the latest news. Don't like that feature? Feel nostalgic for the older home screens? You still have the option to choose from a variety of different options for your home screen.
My favorite feature of the HTC One is the HTC BoomSound. BoomSound is dual front facing speakers that have their own amp and Beats Audio sound processing.  No longer do you have to try to cup your hand over the bottom of your phone like with the iPhone or the back like most other phones to be able to hear your music. They blast it loud right to your face. Audio quality is quite nice for a cell phone also.
The HTC One for Verizon wireless is available for $149.99 with a new 2 year agreement, $0 down and $23.06 a month on Verizon Edge, or $549.99 with no contract. Also available is the HTC One bundle that comes with the phone, car charger, and a phone case. Price is $219.98 with a two-year agreement, $0 down and   $23.06 a month on Verizon Edge, or $619.98 with no contract.