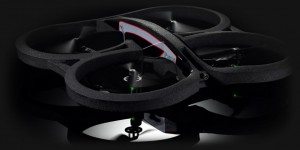 You already know Verizon Wireless sells awesome phones and accessories, but did you know that they also sell other things too. Fun things even. Today's review is the Parrot AR Drone 2.0.  The AR Drone 2.0 uses your smart phone or the NVDIA Shield as a controller. Lets see how much fun we can have.
The Parrot AR Drone 2.0 is powered by a rechargeable LiPo battery.  The battery takes several hours to charge and gives about 10-15 minutes of flying time per charge. The AR Drone  2.0 comes with 2 bodies you can use. One is a ducted design that has a "shield" or duct around all four of the fan blades that offers better lift and some finger protection from the blades. This one is also good for indoor use to protect your belongings.   The second body just covers the main part of the Drone that houses the battery and electronics, and works good for outside.  The body's are made out of foam for light weight and durability. The foam also gives the body some flexibility to keep from breaking if you happen to crash it.
To fly the device, you first need to download the app to your phone from either the App Store or from Google Play . Once downloaded, you attach your phone to the base, plug it in to your phones headphone jack, and your almost ready to go. Now all you need to do is turn on your phone's Wi-Fi and connect it to the network that is being broadcast for the AR Drone. Now you are good to go.
The phone screen gives you controls for up and down, and depending on how you set it up, you can either use an on-screen joystick to control directional travel, or use the phones built-in sensors to control via tilting the phone in the direction you want the drone to go.
The Parrot AR Drone 2.0 also has a 720p HD camera that faces out of the front of the drone. You can use this to view where you are flying on your smart phone, or you can record your flight, have it saved to your phone, and upload it to either the app or to YouTube or any other site you like sharing your video's on.
Via the app, you can also find videos from other AR Drone 2.0 users from around the US and watch their video's.
There is also a racing app that you can use alone, or challenge your friends to a race. The race course is set up by you and uses a paper with printing on it as the start/finish line.
Overall the Parrot AR Drone 2.0  is a blast to fly, my kids love it and can't get enough. Only downside is the very short battery life.  Larger extended batteries are available if you would like to purchase them from Parrot.
The price for the Parrot AR Drone 2.0 is $299.99 from Verizon Wireless.