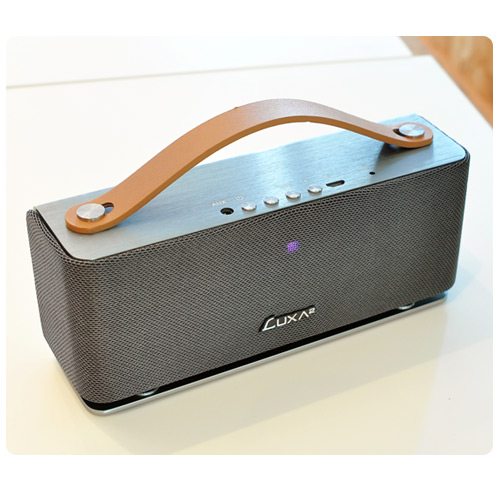 Who doesn't want to have some gentle music playing in the background of your office. Whether you are a blogger, therapist, CEO, or secretary, nothing soothes the savage beast like some smooth jams playing in the background. The Groovy Speaker accells at that with both stylish looks and a great sound.
The LUXA2 Groovy Wireless Bluetooth Speaker has a brushed aluminium case with a grey toned speaker cover that matches the look perfectly. The speaker has a tan leather strap on the top to allow you to carry it around. If tan isn't your thing, they also include a black leather strap in the package. To change the strap all you have to do is unscrew the posts that hold it down and place the new strap in.
In the package you get the Groovy Bluetooth Speaker, USB to microUSB charging cable, 3.5mm Aux cable, black leather strap, carrying pouch, and user manual.
Across the top are all the buttons you need. There is a 3.5mm headphone jack for if your device doesn't have bluetooth. Next is the Power button, followed by volume down, pause/phone answer, power up, microUSB charging plug, then the mic for making bluetooth calls.
There is a LED light that shines through the front grille that lets you know whether the device is on, or charging.
The Groovy Speaker has a great look that will work with most office decor's.
Sound quality is great for such a small device. There is no pounding bass, but the main goal of this speaker i believe is for a small office or in your bedroom or den. The music and audio are very clear and delivers hi-fidelity sound even when near max volume.
The internal battery is an 1800 mAh Li-Polymer battery  that takes about 3-4 hours to charge and lasts the same.
With its small compact size and good battery life, this is a speaker that you can take with you and be able to enjoy on the go or in the office.
Price is $89.00 and can be purchased from LUXA2.com or