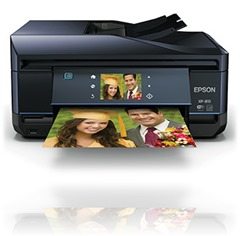 With all the "All in one" printers out there, it can sometimes be difficult to make a selection that ends with complete satisfaction. In this search, we take the time to look at the Epson XP 810 Small-in-One Printer.
This printer comes loaded with features. With the typical scanning, copying, and faxing that we commonly receive on printers nowadays, this device also has an auto-duplex-document feature (ADF) which will take care of two-sided documents for you rather than forcing you to spend tedious minutes copying the other side before sending or trying to time your moves properly to catch, flip, and insert before the job registers as finished.
The XP-810 also includes multiple supports for mobile printing, as well as the typical PC or network printing. This printer will allow the user to print through the cloud, which is an especially handy feature for anyone who regularly uploads files to their iCloud. In conjunction, it can also scan documents directly to the cloud or your Google Drive and is compatible with Apple's AirPrint.
This particular printer features four paper trays: 1 paper, 1 photo, 1 CD, and 1 Manual (single sheet feed). The second tray can hold up to 20 sheets of photo paper, eliminating the need to switch the paper in the main tray between plain and photo papers all the time. The manual tray is easy to overlook since it is hidden under a cover in the back.
Above all, this device is primarily intended for photo printing, including labels for recordable CD and DVD discs. This does, however, make its cost per page higher than even other printers, but isn't it worth it clear, unblemished photos?
Compact, attractive, loaded with connectivity features, the Epson XP-810 Small-in-One makes a wonderful device for the home or small offices.
Problems?  Well, the paper trays are a touch confusing.   The "CD Tray" is stored under the printer and has to be inserted into a special slot to print on the CD.
Other paper trays are small (compact?). They don't hold a lot of paper and seem to be somewhat hidden.
Something that irks me a little is that the main paper tray is at the bottom of the printer – and it IS the bottom of the printer.
If your device is sitting on an uneven surface (or a box), it makes the tray a little more difficult to remove and replace.
One rather cool feature is that the print out deposit tray automatically  (and magically) appears when you print.   Sadly it doesn't hide itself though.
In all, it's a great little printer and absolutely worth $180 (at Epson.com).
Related articles