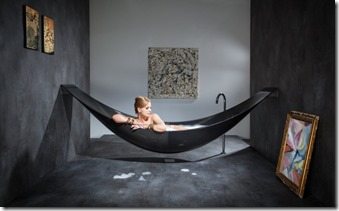 It's called a "Vessel Bathtub".   Made out of carbon fiber, this bath tub hangs like a hammock, proving that a very minimal design can look very cool.
I suppose, because it is Carbon Fiber (or "fibre", it's a British company) the tub can be formed to fit whatever space you have.  It should be light, durable and rather easy to clean, too.
Layered carbon and a foam core fiber means that your tub is insulated and theoretically keeps your bath water warmer for longer.
I like that instead of a typical drain, the water is released from the bottom of the tub into a train installed in the floor. This eliminates a little more of your typical "bathroom" look and makes it stand out just that much more.
There's no word on price but, I'm sure that you won't be seeing a Vessel Bathtub at your local Lowes or Home Depot any time soon.