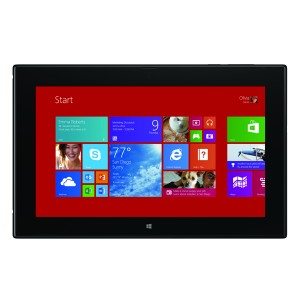 For some people, there has always been the want for a tablet but the need for the functionality of a PC. The upcoming Nokia Lumia 2520 fulfills both of those wants and needs, giving users a tablet with a PC experience.
When thinking about the "PC experience", desktops and laptops are what usually comes to mind. But the Lumia 2520 comes with Windows RT 8.1, so it combines the functionality of a PC—such as having Microsoft Office 2013 Home and Student and Outlook RT—with the mobility of a tablet. The device also features  4G LTE connectivity, which is available in more than 500 markets, so you can spend less time looking for Wi-Fi and more time getting stuff done whether in the classroom, while traveling or playing around with the latest apps.
College students starting a new semester soon may be in need of a new device. Having Microsoft Office on a tablet means they can have study guides, class notes and that last-minute group project in one place. Students can upload their work and share and with the rest of the group and the professor before the deadline.
The Lumia 2520 also includes exclusive Nokia apps like HERE Maps to pre-plan trips and stay on track, especially with holiday travel coming up. After taking pictures with the 6.7-megapixel camera with Zeiss optics, shutterbugs can use the Nokia Storyteller app to maintain a timeline with images grouped by events and geographic location. Video chatting fans have Skype to chat with friends and family around the world.
Gamers will have access to Xbox Live for games, movies, music and more all on the tablet. For additional apps, users can choose from more than 112,000 apps available through the Windows Store, including favorites like Facebook, Netflix, Angry Birds and Flipboard. The 8000mAh battery provides plenty of power so users can watch, game, and browse throughout their day and offers fast charging of up to 80 percent in about an hour.
The Nokia Lumia 2520 with 10.1-inch Full HD display will be available online and in select stores starting Nov. 21 for $499.99. For a limited time, customers can get the Lumia 2520 for $399.99 when purchasing with a new two-year activation.  Customers can add the tablet to their Share Everything account for $10 per month.
The Black color model will be available in stores, and customers purchasing online can choose from Black or Red color models.