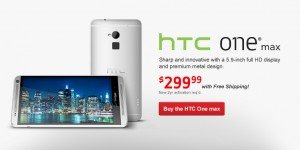 HTC One MAX. All the things you love from the HTC One, with a larger screen for all your video's and YouTube enjoyment.
By Albert Aydin
Smartphones come in various shapes and sizes. The choice sometimes comes down to personal preference and needs when picking out a new smartphone. Fans of large screens now have a new choice to fulfill that need, the new HTC One Max with a 5.9-inch full HD display.
The HTC One Max is now available online and in stores for $299.99 with a new two-year activation. Verizon Edge is also available for eligible customers who want to upgrade.
Video fans can appreciate the large HD screen for their lifestyle. Apps like NFL mobile and Netflix are a different experience when watching on a big screened smartphone and not having to hold the phone up and close to your face. And with HTC BoomSound, the two front facing speakers can make users feel as though they have a home theater in their pocket.
Users will notice features from the HTC One on the new smartphone plus a few new ones such as a fingerprint scanner. Many people check their phone numerous times a day, and sometimes it can be annoying having to enter a PIN or password each time. Swiping a finger is an easy and convenient way to unlock and use a phone. Apps can even be assigned to individual fingers as shortcuts; so for example the pointer finger can launch the messaging app and the index finger can launch the camera.
In today's world, pockets and bags are filling up with devices. The One max can be the device that helps clear up some space by acting as a smartphone, tablet and mobile wallet. The smartphone is ISIS-ready and comes with an enhanced SIM card pre-installed so it can become a wallet and replace the need to carry credit cards, loyalty cards, and other special offers. The ISIS Mobile Wallet app lets users pay with their  phone and can be downloaded from the Google Play Store.