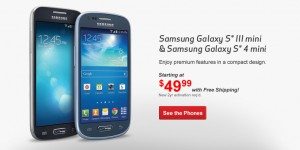 Want one of the Samsung Galaxy Phone but don't want a screen that large? Your in luck, the Galaxy Mini phones are now available on Verizon Wireless.
By Albert Aydin
There is no "one size fits all" when it comes to smartphones. Having multiple options lets customers find the phone that suits their style and fits best in their hands.
The Samsung Galaxy S® 4 mini and the Samsung Galaxy S® III mini each offer a compact choice when choosing a new smartphone. Galaxy S 4 mini has a 4.3-inch qHD Super AMOLED ™ display and includes an 8-megapixel camera. Galaxy S III mini has a 4-inch Super AMOLED display with a 5-megapixel camera.
Available just in time for the holidays the Galaxy S4 mini and Galaxy S III mini contain features similar to those found on other Galaxy smartphones. Take a family picture using Sound & Shot to add audio to the image – perhaps the whole family sends a holiday greeting.  Then share that picture through S Beam™ by tapping the back of another S Beam-enabled Galaxy smartphone.
All the family chaos in the house can lead to losing the TV remote or feuds about what to watch next. The Galaxy S 4 mini has the WatchON™ app so users can control the TV with their phone and find a show the whole family can enjoy. Football fans trying to sneak in some time to watch Thanksgiving games can use NFL Mobile on either smartphone.
The Galaxy S 4 mini and the Galaxy S III mini are now available online and in stores. The Galaxy S 4 mini is $99.99 after $50 mail-in-rebate debit card and the Galaxy S III mini is $49.99 after $50 mail-in-rebate debit card, both with new two-year activation. Verizon Edge is also available for eligible customers who want to upgrade.