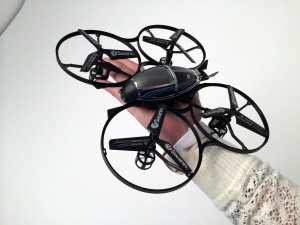 Santa Fe Springs, Calif.– December 5, 2013 – Swann, a global leader in do-it-yourself security monitoring solutions, announces the release of its Quad Starship™. Swann's new Quad Starship looks like something from a space movie, but it's here, it's real, and it will boldly take your teenagers into a new out-of-this-world dimension this Christmas. The Quad Starship™, is available at Amazon, Fry's, Tiger Direct and B&H stores nationwide for $79.99.
The Quad Starship is equipped with Swann's Easy Fly Gyro technology which includes 4 axis and propellers. With this design it makes for easy multi-direction maneuverability and simple control. The four rotors mean it can move up, down, forwards, backwards, and sideways, as well as perform flips and stunt tumbles.
The compact and powerful Swann 2.4GHz control is capable of transmitting a signal up to 330 feet away. The Swann Quad Starship is simple to set up and easy to charge. Simply add four alkaline AA batteries to the remote control, and then charge the chopper using the USB cable included. Once charged, you're up and away with 8 minutes of aerial flying time per charge. The Swann Quad Starship 's lightweight and durable construction is built for indoor flying in any direction.
"The Quad Starship is perfect for intermediate pilots aged 14, plus those who have never used remote controlled helicopters before. Teenagers can be hard to buy Christmas presents for, but I defy any teenager (or their Dad) not to have fun with the Swann Quad Starship," says Jeremy Stewart, Vice President, Marketing of Swann. "The Easy-Fly Gyro technology will help to self-stabilize the flight level and maintain control. With some practice you will be performing death-defying turns, dives, flips, tumbles and stunts in no time."
For more information on Swann's Quad Starship, go to www.swann.com.
Available
The Quad Starship, is available at Amazon, Fry's, Tiger Direct and B&H stores nationwide for $79.99.
About Swann:
Swann is a global leader in security monitoring solutions and fun gadgets targeting consumers through retail channels. In 2012, Swann celebrated its 25th anniversary as a manufacturer of consumer electronics products that are innovative yet cost effective.
The company's products are mainly do-it-yourself with easy-to-follow 'plug-and-play' instructions, free after-sale 24/7 technical support and retail-friendly product packaging aimed at home, office and small-to-medium retail users.
For customers needing more high-tech solutions, Swann is at the forefront of the latest international trends including full HD 1080p, HD surveillance cameras, Wi-Fi network video recording, live Smartphone connectivity and more.
Swann was founded in 1987 and now has offices in the USA, Canada, Australia, the UK, China and Hong Kong with distribution partners around the globe.
Swann's reseller network includes some of the world's largest retailers and distributors including Fry's Electronics, RadioShack, Best Buy, Costco.com, Canadian Tire, Dick Smith and Maplin Electronics.