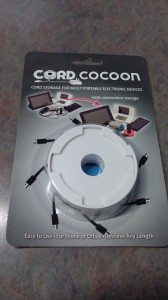 I hate when you go yo pull a cord out of your bag or desk drawer to either charge your phone or tablet or sync it and the cable is knotted or tangled in with other cables. Cord Cocoon gets rid of that hassle by keeping your cables wrapped in a case that is both easy to fill, and easy to get your cable out for use.
The Cord Cocoon is made from 2 pieces of plastic. The plastic is sturdy and holds together well. It is very easy to get your cord wrapped up inside of the Cocoon. Also, the opening in the center of the Cocoon is the exact size of the prongs for the wall outlet. This holds your plug nice and secure for travel.
Cord Cocoon is an easy to use method to keep most of your phones cords neat and non tangled. Not only will this work for USB only cables, but also for those wall chargers that are a single cable. Note that the 6 foot cable I used will not fit in the Cord Cocoon. Most cords under that size will fit easily.
Cord Cocoon is simple to use, just find the center of your cable, fold the cable in half,  and slide it into the slot on your Cord Cocoon. Next just keep turning the center of the Cocoon till your cable is wrapped back up. This keeps your cable wrapped  up neatly inside  for use. One of the benefits of the Cord Cocoon, besides keeping your cables neat, is the fact that you can pull out the cable just far enough for what you need. No longer do you have to have extra cable lying around getting in your road. If you decide that you don't want that cable in your Cord Cocoon, you can very easily remove it and place a new on inside.
The Cord Cocoon is available in multiple color combinations and start at $9.00 each or they also sell packages for 3 for $20 and 4 for $25.
The Cord Cocoon is a great little device to take care of most of those cord problems you have. Only thing I wish is that I would have thought of it first. Head over to Cordcocoon.com to pick yours up today.