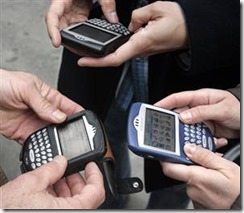 According to a study by IBM, 82% of America's employees feel that smartphones are critical to their business operations, so it's no surprise that the trend of bringing your own device to work (known as BYOD) has taken off in recent years. Consumers are increasingly enticed by the latest developments in the IT revolution, and they often purchase the latest devices far before their company IT departments are able to. It only follows that workers want to bring these new devices into their work lives, which is what has truly spurred the onset of the BYOD era.
When considering the growing BYOD trend, it's hard to underestimate the contributions of BlackBerry. The BlackBerry was the first personal device to be widely adopted by the business community because it was, at the time, the only device capable of providing push email services. However, competing companies soon caught on to the BYOD trend while some claim BlackBerry got too comfortable and failed to take necessary measures to stay at the top of the BYOD market.
Now, BlackBerry BYOD is stepping up to re-assert its claim, recently introducing BlackBerry Z10, which offers the ability to easily switch between personal and business uses, according to a recent ZDNet article. The Work Space on the new BlackBerry is fully encrypted, and now users are able to manage all features (even those running on Android and iOS) through a single device.
For companies, there are many benefits to allowing workers to furnish their own devices. A PC World article on the topic states that companies can save an average of $80 per month per employee when workers pay for their own data plans, software, and other features essential to using their personal devices for work. Many workers also prefer the BYOD model because it allows them to select the device or devices that best suit their individual needs—both professional and personal. Studies also show that companies that embrace BYOD policies have seen an increase in productivity as well as in employee satisfaction. With so many benefits, it's no surprise that the BYOD trend is only expected to increase in future years.
There are some definite challenges to allowing employees to use their own devices for work. When initiating a BYOD policy, it is vital that a company establishes minimum security requirements and rules for sharing data and other confidential information. Companies also need to have a plan in place for when employees move on to another job so that they can retrieve any necessary data that employee may have on his or her personal device. In some cases, it may be best for a company to purchase devices for employees so that they can maintain some control. If a company is going to allow its employees to select their own devices to use for work, then they need to be able to trouble-shoot and accommodate a range of devices, platforms, and apps.
BYOD is here to stay. According to a recent global poll by Gartner, Inc., up to 38% of companies will stop providing their workers with personal devices by 2016, which means that now is the time for companies to tighten up their expectations and policies regarding the use of personal devices for business purposes.
If your company is planning to initiate BYOD, these tips from Gartner vice president David Willis are a good place to start: "It is essential that IT specify which platforms will be supported and how; what service levels a user should expect; what the user's own responsibilities and risks are; who qualifies; and that IT provides guidelines for employees purchasing a personal device for use at work, such as minimum requirements for operating systems." Every company is different, so it's important that CIOs and other decision makers evaluate the unique needs of both their businesses and their employees when instituting or supporting a BYOD environment.
—
Author Bio: Jessica is a freelance journalist who loves to cover technology news and the ways that technology makes life easier. She also blogs at FreshlyTechy.com. Check her out on Twitter @TechyJessy.