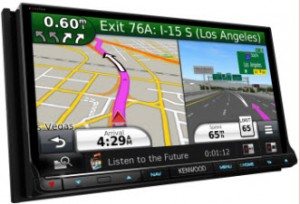 LONG BEACH, CA.-January, 2014 – The Kenwood eXcelon DNN991HD Connected Entertainment Receiver was unveiled today at the CES in Las Vegas Nevada.  The most technologically advanced highest quality receiver that Kenwood has to offer, this year's eXcelon DNN991HD surpasses all previous expectations for multimedia entertainment options for your vehicle.
New features for the DNN991HD include HDMI/MHL input for iPhone and Android video, improved Bluetooth Ready™(SXV200 SiriusXM Connect Vehicle Tuner sold separately, subscription required), provides guidance by Garmin and is HERE Traffic ready.  It also has new Kenwood Route Collector online (
http://www.route-collector.com
) features, supports the Verizon 4G LTE USB Modem compatibility and new summary board.  Available only on the DNN991HD is Wi-Fi upon startup or you can add Verizon 4G LTE via the USB Modem.  The dongle plugs into the second USB port for immediate Verizon Wireless 4G LTE connection.
The DNN991HD supports iTunes Radio control, Pandora control for iPhone and Android, pre-installed AUPEO and iHeartRadio, and is equipped with dual USB ports.
See and read more…