Do you have a lead foot like I tend to do? Tickets aren't cheap. And if you live in Pennsylvania like I do, those ticket prices are about to double.  About the only way to protect yourself is to go out and get a radar detector (or just slow down). Only problem is, there are so many choices what one do you get. The Stealth Interceptor 2300 IS by App-Tronics is an excellent choice for those of you that want the protection from both Radar and Laser, while giving you a DVR that also protects you from both unscrupulous police officers and accidents.  Lets take a look shall we.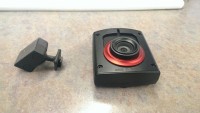 The Stealth Interceptor is a great option to protect your self and save money over the long run. The radar detector function works across X,K,KA,and KU bands. The Laser Diffusers have been tested on over 30 different laser guns to assure the best coverage possible. Installation  is very easy as no wires need to be run to the inside of the vehicle. To install,  you simply find a spot in front of the radiator to mount the main control box. The box is smaller than a box of matches so it is easy to find a place to mount.  Next you need to mount the two laser diffusers and the radar unit. Both are small and come with mounting brackets and screws to make the installation as  simple as possible. Then just run the power and negative wires to the battery and you are done.  The kit includes an inline fuse on the positive wire and terminal ends pre-installed to give you the easiest install possible. Total install time was 45 minutes for me doing the work in my garage.

The install was made simple due to the Stealth Interceptors built-in electronics. The control box monitors the battery voltage and keeps the system in a "standby" mode that keeps the laser diffuser and radar detector off until the system voltage reaches a minimum of 13 volts.  Using this method, App-Tronics has eliminated both dead batteries, and having to run wires into the interior of the vehicle for either a relay system or a power switch.
The next component of the Stealth Interceptor is the DVR.  The DVR mounts to your windshield and records, forward-looking video, interior sound,  GPS location, Speed, Radar/Laser notifications,  and adds a time stamp.  The DVR is powered by a cable that you can plug into your cigarette lighter or power port. The kit includes a power outlet that you can install in your vehicle if needed. The video is stored onto a microSD card. They include a 8GB card, but you can purchase  either a 16GB or 32GB microSD card from the site  should you decide you want more storage space.  The system can handle up to a 32GB card. A future update may include the ability to use a 64GB card but nothing has been said yet.
To install the DVR, take the mount that App-Tronics has included, peel the backing off the double-sided tape, and stick it to a clean windshield. The DVR itself slides into a slot on the arm. This way you can take it with you into your house if you are worried about theft.  The DVR has a 2.5″ LCD screen that shows you not only what it is recording, but also gives you visual alerts for whatever radar or laser mode is directed at your car.  To go along with the visual alerts on the screen, the built-in speaker give you an audible alert. The DVR beeps  and then tells you in a female voice what radar band was alerted.
The DVR has multiple setting to customise it to do just what you need it too. One of the great features with this system is that you can set the DVR to record when your vehicle is bumped. There are settings for  how hard your car would need to shake to set it off.  With this option it gives you a chance to possibly catch the person or vehicle that hit or broke into your car.
The recorded video quality very clear and detailed.  The video is 1280 x 720HD  and is saved in M-JPEG format.  Video is stored on the microSD card. Aside from the video feed, GPS location, speed, and G force for the X,Y, and Z axis. This gives you a complete picture of what is going on the exact second you are either pulled over, or happen to be in an accident. The DVR recording when driving not only helps to determine who was at fault during an accident, but if you get pulled over for speeding the recording saves your GPS location and speed to possibly help get you out of a ticket.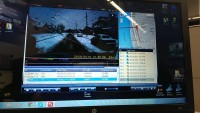 As you can see, when viewing the playback on your computer, all the information is shown, including a Google map overlay of your location while the camera was recording. You can also with a double-click, watch the video in full screen for a closer inspection. There are controls for starting and stopping the viewing.
Price for the App-Tronics Stealth Interceptor is $1,395.95.  While this price may seem like a lot, consider a top of the line  radar/laser detector will cost $400 and up. Factor in costs of a drive cam to record your travels, cost of a ticket or two that could run into a couple hundred dollars a piece, plus a deducible from an at fault accident that you can't prove wasn't your fault, and you are well over the price of the Stealth Interceptor. Sure, none of those things may ever happen to you, but isn't having that piece of mind worth it.
Check out App-Tronics.com for this and the other great products they offer.