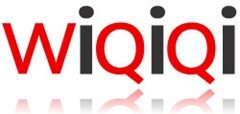 NEW YORK, Jan. 21, 2014 /PRNewswire/ — WiQiQi, designer of wireless chargers for Samsung Galaxy phones, is introducing the i5 thin wireless receiver for Apple iPhone 5, 5S, 5C, and iPod Touch
The iPhone 5 series is packed with the most advanced wireless features and yet it still needs to be plugged in to charge the battery. The charger wire has now been cut!
Is wireless charging useful? How many times have you forgotten to charge your phone or fumbled with the plug at night? Did you ever pull the charger out of the wall to answer a call, accidentally break the connector or dropped the phone?
The i5 wireless receiver is a more powerful (700 mAh) version of the WiQiQi Samsung receiver, with a thin ribbon and iPhone 5 compatible connector at the end. It attaches to the outside of the iPhone 5 and takes only seconds to plug the i5 to the charging port. It is smaller and thinner than a credit card and will fit under any soft case.
The WiQiQi system is so convenient and easy to use because you just place the phone on top of any Qi standard compatible charging pad and like magic, they will wirelessly connect and start charging right away.
The WiQiQi i5 wireless receiver for the iPhone 5 will be available in late February.
Suggested Retail: $30.
Exclusive $5 Early Bird Super Discount Offer
WiQiQi is offering super discounted prices for Early Bird orders placed directly on www.wiqiqi.com before February 20th. The i5 wireless receiver will cost only $5 when ordered with any WiQiQi charging pad, or $15 by itself.
This unprecedented discount offer is designed to break the previous company record of 50,000 Early Bird orders for its successful launch of Samsung Galaxy compatible wireless chargers in 2013.
About WiQiQi Inc.
WiQiQi is an innovative designer of wireless power accessories for Apple, Nexus, and Samsung Galaxy phones. Its design team is based in New York and it has factories in Asia.
Since 2013, over 100,000 WiQiQi wireless chargers for Samsung and Nexus phones have been shipped.