Tickets, the bane of drivers (next to gas prices). What to do when you need to get somewhere in a hurry? App-Tronics has just what you are looking for. The SmartNav5 is a direct replacement for your rear view mirror that not only includes a build in radar and laser detector, but also includes GPS with navigation, Bluetooth connectivity with hands free-calling, Music player, Movie player, DVR Drive cam, and backup camera. Worth the money? Lets find out.
First things first, if you are not confident with  electronic wiring, take this to a professional to install. This is a direct replacement and will be replacing your rear view mirror. The packaging includes everything you need to install the SmartNav5. Included is the Mirror, Wiring harness for the mirror, Rear View Camera and wiring, and the Windshield Mount for the mirror.
Installation is simple and the step by step instructions are included. I installed the mirror on my own and had the job completed in about 1 hour, taking my time and making sure everything was correct.
The mirror is very easy to set up. Once you turn it on, setup is very easy. For just using the SmartNav5 for radar alerts and navigation, there is no setup.  For setup, you can set the date and time (useful for the DVR Recording) and the time. There are options to have your time in 12 hour or 24 hour format. you can also choose you language and how bright you would like the back light. If you would like to use the SmartNav5 for hands-free phone calls, the Bluetooth set up is very easy.  Also if you would like to have you calls and music go through your car's audio, there is a build in FM Transmitter that you can tune to an available frequency in your area. If you choose not to use the FM Transmitter, there is a built-in speaker that works quite well for calls and also for turn by turn directions and audio alerts. Also there is a 3.5mm audio jack for using headphones of connecting the audio out through a cable.
The GPS Navigation  is provided by iGo Navigation. They provide 3D maps with accurate turn by turn directions. I would compare this to both Tom Tom and Garmin. This app features the same features that you can get with those devices, but integrated into your mirror. As you can see with the pictures included, the screen gives you all the information you need for your drive. It shows upcoming exits, now far till your next turn, even see where the next rest area is. All great features when the kids are in the back seat saying are we there yet. iGO is also upgradeable online so you can always have the latest maps at the tip of your fingers.
The DVR Recorder works exactly the same as the Stealth Interceptor you saw me review HERE. It gives you your speed, a view out of the front of your car, and GPS location. This helps keep you safe from fake insurance claims, and also shows your exact speed for if you happen to get a ticket and you are not speeding.  The forward facing camera can be aimed independently of the mirror so you can have the mirror set exactly where you need it and still have the camera facing directly in front of your car. You now have video proof for almost every situation. To view the video's all you need to do is remove the microSD card, place it in your computer, and view all the video's that have been recorded on your SmartNav5.
Lets go over some of the screens and their functions.  The main screen has all of your icons for all the options of the SmartNav5. You can find Icons for pairing your phone, using the GPS Navigations, Video player, Audio Player, Volume settings, Languages, Picture Viewer and GPS speed settings. There is even an EBook reader.
Lets start with the speed and radar alarm screen. The SmartNav5 uses a build in Radar Detector tho give you forward-looking detection. The SmartNav5 Plus uses the front mounted Radar Detector and Laser Diffuser for the Stealth 2300is. This screen has a dial that shows you both your direction and speed. When you encounter a speed trap, radar, or pre-installed red light camera, you will get a pop up picture of what type of alert it happens to be, along with an audio alert stating what type of alert you are encountering. The SmartNav5 gives you the option to place the visual alert where you would like on the screen. Across the top, you have several notifications that let you know if RF is connected or disconnected, which Nav you are using, the speed at which your Alert mute is set too, and if your GPS position is valid or not. As you can see on the left of the screen  are GPS navigation options. You can choose Navigation A or B by tapping the screen. Add location allows you to add an alarm for camera locations. Once you tap Add Location you will be able to choose from several different types of cameras. on the right side you see a Delete Location button and a Setting Button. If you have an alert for a camera trap that is incorrect, you can delete that alert with that button. The settings allow you to set which bands of radar you would like to scan for. The setting screen also gives you your GPS information and how many Satellites you are connected to. There is also options to be alerted to Traffic Light Cams and regular Radar Cameras. You can also choose which corner you would like your alerts displayed in. At the bottom is the alert mute setting. When set, the speed chosen will let you have the alerts muted when the car is traveling below the set speed.
Lets go to the Hands-Free Bluetooth settings. The Bluetooth in the SmartNav5  is Bluetooth 4.0 with A2DP firmware. This not only allows you to connect your phone for not only hands-free calls, but also allows you to stream music from your phone, through the SmartNav5 to your car stereo.  Setup is easy with setting your phone into pairing mode, finding your phone in the list on the SmartNav5 screen, and pairing the devices.  You can sync your phonebook to the device to have all your contacts at the tip of your fingers without ever having to touch your phone. The onscreen controls allow you to answer and hang up your calls as well as dial a number using the onscreen keypad.
So lets say you don't want to waste your phone's battery by streaming your music, you can put your music onto the microSD card and play it directly from the SmartNav5. The SmartNav has its own built-in Music Player that has functions that allow you to pause,play, skip forward and back, use the progress bar to select an exact point in a song. There is also an equalizer that you can adjust the sound to your liking. You can even create your own playlists to listen to the song in the order you want. The Music Player works with WAV, MP3, and WMA files.
To go along with the Music Player, Apptronics  has added a movie player so you can enjoy your movies on the screen. The movie player features the same functions as the Music Player and can play AVI, MP4, MPG, WMV, and 3GP files.
To round out the media types the SmartNav5 can also view photo files that are saved on the SD card in either JPG, GIF, BMP, and PNG files.
How about the book readers out there. It's kind of dangerous to drive and read at the same time.  The SmartNav5 has a built-in text to speech reader  that will read your converted ebooks to you while you are driving.
Included with the SmartNav5 is a backup camera. It is very simple to install and once you put your vehicle into reverse, within 1-3 seconds, the video shows on the screen of the SmartNav.  While in reverse, your audio is muted so you can concentrate on your driving and not your music. The backup camera is illuminated to give you a great view of what's behind you, even when it's dark out.
One feature that is available with the SmartNav5 that wasn't reviewed was the additional back up sensor. With this, you can have an easier time parallel parking your car or truck.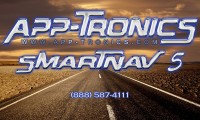 Overall the SmartNav5 by App-Tronics is a great addition to your vehicle. This one device can replace not only your GPS, but also your MP3 Player, Drive Cam, Radar Detector, DVD Player, FM Transmitter, Hands Free Device, Backup Camera, and Parking Sensors.
Price for the SmartNav5 is $899.99 and comes with one of 15 mounting brackets to make it a perfect fit to your vehicle. If you want some added protection from the Long arm of the law, you can purchase the SmartNav5 Plus that includes Stealth 2300is integration. This gives you the added Radar and Laser protection found in that link. Price for the SmartNav5 Plus is $1999.99