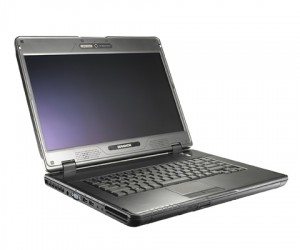 Fremont, CA – January 28, 2014 – GammaTech Computer Corp., a major international manufacturer and supplier of innovative notebook and tablet computers, has announced the addition of the S15H: a 15.6" semi-rugged Durabook notebook with high-definition resolution that takes full advantage of the Intel 'Haswell' CPU. Model S15H also carries on the GammaTech tradition of offering cost-effective, high-performance mobile solutions that are designed for rugged applications and environments.
"The S15H was designed to fill a need for a 15" monitor in the marketplace," commented Paul Kim, GammaTech vice president of marketing. "Many companies and organizations have legacy software programs that were designed for 15" monitors with no way to run them. The S15H provides a solution to this problem, while eliminating the need and expense of modifying how legacy systems display."
The S15H notebook's full high-definition (1920×1080 resolution) 15.6" LED display with Intel compliant high-definition stereo audio, built-in microphone, and Intel integrated graphics controller, plus nVidia Optimus technology ensures incredible image detail and crisp reproduction, even for the most graphic-intense situations, including 3D.
Replacing Intel's Ivy Bridge, the 'Haswell' CPU is the first SoCs that is made specifically to take advantage of Intel's 22nm process technology. It features a new core, new graphics, and substantial changes to the platform in terms of memory and power delivery as well as power management. That means consumers or businesses using the GammaTech S15H notebook can expect faster computing and graphics, and longer battery life in a sleek form factor.
The use of a USB 3.0 connector allows the S15H notebook to transfer data super fast. With a "SuperSpeed" transfer mode, USB 3.0 is capable of transferring data at up to 5Gbit/sec., more than 10 times as fast as the 480 Mbit/sec. top speed of USB 2.0. Plus, with its increased bandwidth, USB 3.0 is able to use two unidirectional data paths: one for receiving data, the other for transmitting. It is also backwards compatible with USB 2.0 devices.
Even with these advanced technological features, the Durabook S15H notebook wouldn't be nearly as beneficial without its built-in renowned GammaTech toughness. Its magnesium alloy case is 20 times stronger than ABS plastic. The unit is tested to Military Standard 810G for drop and shock resistance and its keyboard, buttons and indicators are spill resistant. Its flexible HDD cable design absorbs shock from drops, providing protection for important data, while anti-shock mounting technology around the LCD helps protect the display from accidental damage.
Other rugged features include an exclusive optical disk-tray lock that prevents unintentional tray eject from drop and vibration; double-protection smart battery circuitry, which prevents damage caused by current or voltage surges and overheating; and smart battery calibration that helps fight the loss of battery capacity after repeated charge-discharge cycles.
The Durabook S15H notebook comes with an Intel 4th Generation iCore CPU M series with Intel HM86 chipset. Two dual-channel DDR III SODIMM slots provide 2, 4, 8, or 16GB of memory. An internal optical media device accommodates a DVD super-multi drive (DVD-R/CD-RW/DVD-RW/DVD+RW_DL/DVD-RAM).
The S15H notebook can be used virtually anywhere thanks to wireless communications such as integrated 10/100/1000 Mbps Ethernet, an Intel Mini-Express wireless LAN network connection, and Bluetooth 2.1 + EDR. A WWAN 3G module is also available. The SIM card is secured behind a security-screwed door.
System security is provided by internal TPM 1.2 data security protection, as well as a Kensington lock connector and both administrator and boot password control.
Availability
The GammaTech S15H will be available during Q1 2014 through authorized resellers nationwide and at www.GammaTechUSA.com. All GammaTech computers may be customized to customer specifications.
About GammaTech Computer Corporation
GammaTech Computer Corporation is a leader in the design, manufacture and sales of cost-effective, high-performance mobile computing solutions throughout North America. Its award-winning line of rugged and hardened notebook and tablet computers are designed and built-to-order to increase mobile productivity for business, government, healthcare, fire, public safety and a host of other entities. GammaTech offers a complete portfolio of products that delivers power and performance needed in the most demanding work environments, resulting in increased productivity and accelerated return on investment. GammaTech is headquartered in Fremont, California, which provides the final assembly, inventory, service and technical support.
For more information, please visit GammaTech at www.GammaTechUSA.com.