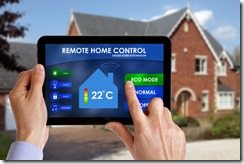 According to the Administration on Aging, there will be roughly 72.1 million older people in the U.S., more than double the number of 65-year-olds in 2000. With the rise of the senior population, more companies are taking notice of the aging population's tough decision whether to live on their own or enter into assisted living or nursing homes.
With the help of automated services, you can choose to stay in your home as long as it's healthy to do so. Home innovations in security, appliances and computer services can offer you more security and thereby, more freedom. Most homes are already automated with the addition of central air, heating, security systems and motion lights. But there are innovative ways to help you stay independent and live in your home longer with the help of home automation.
Stay Secure
Security systems have the power to transform the standard home into a smart home. According to ADT, you can unlock your doors from your cell phone or even better, automatically unlock at a specific time each day to let your caregiver or housekeeper inside. You can easily see who is at the door without having getting up. In today's smart age, you can even receive videos of caregivers or relatives entering and leaving the home.
What about personal security? Think beyond traditional emergency. Systems like Europe's GiraffPlus use a network of sensors around the home and even on your own body to determine blood pressure changes, or when someone falls. It could also figure out if you climbed up the stairs or are having issues with mobility and getting around. A robot feature allows you to talk with caregivers or loved ones. You can even discuss your day or health issues based on the feedback generated from GiraffPlus.
Get Smarter Appliances
Samsung's Smart Fridge keeps kitchens and households organized with the help of specialized apps. A built-in LCD fridge lets you leave notes for your family or caregivers, display photos, get online recipes, check the weather and sync up your Google Calendar. Its built-in grocery manager tells you when you're low on supplies and can even check expiration dates for you. But this smart fridge also connects to Samsung smartphones. This could allow you to be more spontaneous en route to appointments or when you forget a shopping list. Simply use their smartphone to check what's in the fridge while still at the store.
Automatically Backup and Restore Your Devices
Cloud backup is an important tool to control your home automation from the ease of tablets, laptops and smart phones. You can keep a backup of your important medical or tax documents, family photos, history, and passwords through a cloud storage system; such backup services are offered by companies like Mozy, whose packages start at less than 10 dollars per month. Accounts can be set up for manual, scheduled or continuous updates. Once preferences are set, Mozy automatically scans the computer without interrupting what you're doing. And if you lose files on their computer, Mozy can access them in its backup and restore it.
Voice Controlled Homes
Lowes offers an automation kit you can control from a smartphone, tablet or computer with voice control. Ask "Iris" to adjust the thermostat, lock and unlock the doors, and even control your pet door. A dog can be outfitted with a special sensor on his collar that automatically unlocks his dog door when he walks near.
Whether you plan to stay in your home indefinitely or just a few years, there are ways to automate homes to keep everyone safe, make life a little easier and give loved ones some peace of mind. Talk to your caregivers about automation options and design a plan that works for your lifestyle and needs.