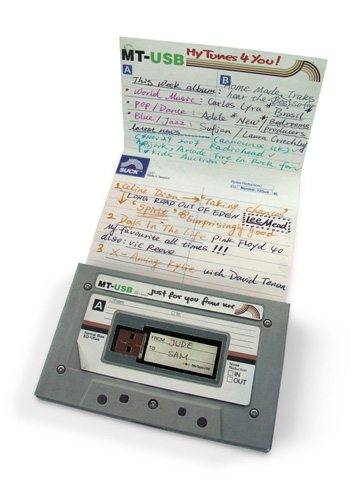 There are all sorts of random items out there that are so geeky and cute that some of the nerds of the world can't help but stop and say, "Aww!"  This Mix Tape Memory Stick is one such item.
It hails back to the days of the mix tape. Most of us are familiar with the concept, even if not all of us lived during that time period. A guy would spend an insane amount of time listening to the radio and recording the songs he felt expressed his feelings for the girl of his dreams. He tried to get them all recorded in just the right order. Once he'd successfully managed this, he would deliver it to said girl and she would swoon over his love for her (or so he hoped) and the rest is history.
In today's media centered world, it's easy to gift the songs through iTunes or make a zip file and email it.  But there's nothing quite like a physical, tangible object that you can hand to someone you care about, which is what makes this item so cute.  You can easily record a thousand songs (are there ever enough songs to express EXACTLY how you feel?) and put them on this flash drive.  Then you can place the flash drive in the cute little cassette tape styled case, fill in the "To" and "From" sections, and you will have successfully given a "mixed tape" in this day and age.
It's the cute, thoughtful things like this that make some of those girls go weak at the knees.