Every now and then I get a box from Influenster.   It's called a #InfluensterVox.
If you're not familiar with Influenster, check out out.
I talk about stuff, they see me as influential and send me stuff to check out.
However, quite why I got a tube of toothpaste from Target, I have no clue.
Either way, it's an interesting insight into how Crest is marketing their "Be" line of toothpastes.
Vote on your favorite toothpaste, Lime Spearmint Zest, Mint Chocolate Trek, or Vanilla Mint Spark. Interesting combinations, for sure.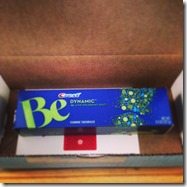 So, Lime Spearmint Zest Toothpaste? Apparently, Lime and Spearmint make for a dynamic, fresh, "energize your morning" kind of a toothpaste.
It's actually rather good, and not too weird tasting.
Like any other Toothpaste, you taste mostly mint, but with this one, you get to taste the lime afterwards, too.
It's rather fresh, and refreshing.
Do you care about toothpaste flavors to go to the site and vote for your favorite? Are you impassioned enough to stick it to the Mint Man and go with something completely wild like… lime?
I think the odds are kind of stacked against poor old lime, and vanilla though – I mean, do I need to point out that Chocolate is winning?
Check out this video from Crest:

Find out more about the Be Toothpastes here, oh and #FindItAtTarget 🙂
Related articles