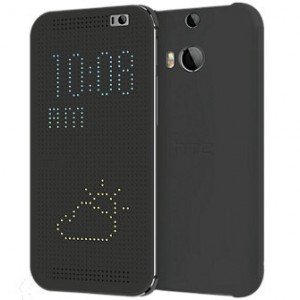 If you just picked up your new HTC ONE M8 like I did, you need a case for it.  The Dot View case is not only a great choice, but also a cool choice for your phone. The HTC Dot View case protects the front, sides, and back of your phone. The back of the case has the HTC logo in the center of the case with openings for both the camera's , the flash, and the rear mic. The front of the case has the HTC logo on the side and an opening for the front camera. The front of the case is also full of tiny holes that allow the screen to show through. These holes in conjunction with the Dot View app that is pre-installed on the HTC ONE M8 give you alerts, time and weather conditions without having to open the case and fully illuminate your screen. The app places what looks like 8 bit graphics onto the screen. These graphics show through the holes in the case to create images and numbers.  The case can show time, weather conditions, temperature, message alerts, callers name, mail, phone, voice dialing, and calendar. To display the time /temp/weather condition all you need to do is lift the phone into portrait mode and double tap the front of the case. When you have another alert, if you tap the front of the case it will show you the alert such as the message icon or mail icon.  If you are streaming music via Bluetooth and adjust the volume a speaker icon show in the case and the sound level will show. Only downside with this is once you hit the level where HTC has a sound warning set for loud music levels, you need to open the case to acknowledge the warning.  As for now the Dot View case only works with select HTC Apps. Hopefully a future update will allow it to work with more apps.
The Dot View case protects your phone well as it includes protection for the corners, and one side, as well as the entire front and back. The case does not add much size to the phone which is another bonus. While the case does not cover the entire sides, it has protection on the corners where the phone is most likely to hit. The HTC ONE also fits securely into the Dot View case and does not fall out.
Overall, if you are not looking for a waterproof case for your HTC ONE M8, this is the way to go.  It add good protection and includes great functionality with the Dot View front.
The Dot View Case for the HTC ONE M8 is available from Verizon Wireless for $44.99