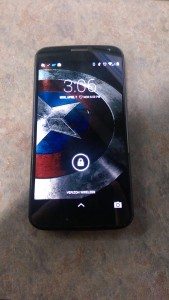 Sometimes when your ready for a new phone you want something good but don't want to spend a ton of money to get it. Verizon is offering the Moto X for free with a new 2 year agreement or for just $16.81 with the Verizon Edge Plan. Is it worth it? Lets find out.
The Moto X was one of the last phones released by Motorola before Google sold them.
The Moto X is powered by a Motorola X8 Dual Core processor running at 1700 Mhz. The processor keeps this little phone running at full speed even while your doing multiple things. Also the dual core helps to give the Moto X it's 13 hour talk life.
The screen is 4.7 inches for those of you who don't want your phone to be as big as your tablet. This keeps the Moto X in the same screen size class as the iPhone 5/5S.  The screen is an AMOLED display that has a resolution of 720 x 1280 with a pixel density of 316 ppi. This gives you a very clear picture whether you are looking at web page pictures or watching your favorite movie while at work or on a road trip.  It also works well for watching TV with your Direct TV App, Verizon Fios App, or Comcast App.
Memory on the Moto X is ok at 16GB  on board and with 2GB of RAM. Google helps you out with space by giving you Apps such as Google Play Music that will allow you to store your music in the cloud. With this app you can store up to 20,000 songs for free and stream them where ever you have service. With Verizon 4G LTE that is pretty much every where.  You can also store you Movies on the cloud with the Play Movies & TV App. You can also use Google Drive to store your video's and images to save space on your Moto X. If you like to store your phone, this might not be the best choice due to the fact that there is no microSD slot for expansion. You are stuck with the 16GB you have onboard.
Taking pictures with your X is easy also. The X has a 10mp rear facing camera with a F2.4 aperture size. This combination gives you excellent pictures that can rival a digital camera's.  The front facing camera is great for selfies and video conferences at 2mp. Now you can leave the house with only one device and be set for anything for sight seeing to a spur of the moment work conference.
The Moto x runs Android 4.4.2 KitKat which is the most up to date version available. This gives you the latest features that Google has implemented into their phones.
As stated earlier, the Moto X has a 13 hour talk time. Since we know that no one uses their smartphone for just voice, the usage I got was about 7-8 with mostly data and text. This was over a combination of both 4G/3G and Wi-Fi. Not bad for a phone that you can pick up for free. Since this phone is sealed you can't buy an extended battery for it to increase your battery life.
The speakerphone works decently for calls and playing music and movies. It gets harder to hear in loud environments.  Overall it works great for what you need from a phone.
Another feature I love with the Motorola Phones that is included with the Moto X is the notifications on the screen when the phone is asleep. Instead of flashing a light or making you wake the phone up to see if you have a message, the screen will flash the time and what the notification is in a soft white light. This saves battery life while still allowing you to see what if any notifications you have. The light setting they use works great in both bright light, but is still dim enough to not blind you in the dark.
Overall, the Moto X from Verizon Wireless is a great phone if your looking to upgrade from a feature phone, aka first smartphone but also has the power and speed to make and Android enthusiest happy.  Internal storage, while not large, is sufficient when paired with one of the Google App's for cloud storage.  The price for the Moto X is free with a new 2 year agreement, $16.81/month on Verizon Edge or $399.99 off contract. As you can see, they have given it a very attractive price point.
Head over to Verizon Wireless and check out this and all the other great phones they offer.