Verizon Wireless today announced XLTE – the next step in ensuring the very best high-speed data experience available on any wireless network in the United States.
XLTE is Verizon's new way to show consumers that they will now have the benefits of even more capacity on the nation's largest and most reliable 4G LTE network, all made possible by taking advantage of AWS spectrum.
"The industry and tech world recognize this is a big deal, and we want consumers to know, too," said Ken Dixon, chief marketing officer of Verizon Wireless. "We continue to offer the very best network, bar none. Now, XLTE provides an even greater advantage to customers by doubling the 4G LTE bandwidth and providing faster peak speeds in cities coast to coast."
All customers automatically benefit where Verizon Wireless has deployed XLTE, part of the company's ongoing commitment to delivering the best experience in wireless. XLTE adds capacity in neighborhoods or areas where demand is high, especially during busy periods like rush hour, lunch times in crowded areas or during events when mobile data use is the highest.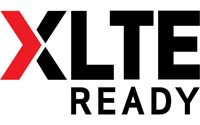 What is XLTE and how does it work?
XLTE delivers faster peak data speeds and a minimum of double the bandwidth to 4G LTE customers in high traffic areas in markets nationwide where AWS spectrum has been activated.
While XLTE network enhancements are invisible to the customer, the mobile experience is not. XLTE Ready devices automatically access both 700 MHz spectrum and the AWS spectrum in XLTE cities. Customers with 4G LTE devices operating solely on the 700 MHz spectrum in XLTE markets also benefit from the extra capacity created by XLTE Ready device traffic moving to the AWS spectrum.
Nearly all of the devices Verizon Wireless sells, including the newest DROID devices, Samsung Galaxy S4, S5 and Note 3, and the iPhone 5c and iPhone 5s, are XLTE Ready when purchased. Today, more than 35 percent of all devices operating on the Verizon Wireless network can take direct advantage of the added capacity that AWS provides.
XLTE is yet another signal of Verizon Wireless' network leadership as the company continues to innovate on the nation's largest and most reliable 4G LTE network and deliver a superior network experience for its customers.
---
DROID is a trademark of Lucasfilm Ltd. and its related companies. Used under license.