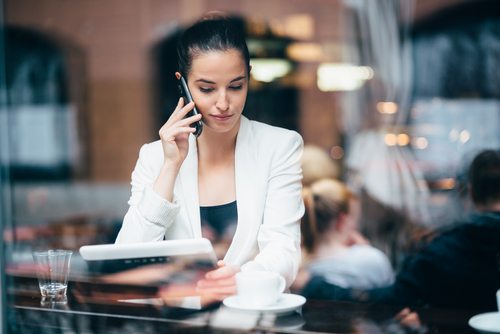 Many employees depend on mobile devices to help them operate more efficiently. Mobile technology frees them and their managers from being tethered to a desk and allows them to focus their energies on their responsibilities.
Mobile Technologies Are Essential Employee Tools
Service-oriented businesses thrive when employees can work onsite with clients and remain in contact with the office through a smartphone or tablet. The sheer range of tools and apps have provided employees with a mobile office, freeing up face time to spend with clients.
Brick-and-mortar stores also use mobile devices for tasks such as tracking inventory with software and apps created for this purpose. Employees can use their smartphones to quickly research customers' questions without leaving their side and risk losing a sale. In short, mobile devices are liberating employees from the desktop world.
The BYOD Phenomenon
More employees than ever before are bringing their own devices to work. BYOD, or Bring Your Own Device, became the norm at work in 2013, says CIO, prompting a flurry of security procedures and policies for outside devices coming into work.
Employers are starting to realize that employees get frustrated when they find themselves stuck to a desktop with no other resources at hand.They resorted to their own devices, pun intended, in response to this frustration. They turn to their own trusty devices to perform quick research, look up a contact or compute a complex problem. Some even install programs that help them work more efficiently. And they can print from their mobile devices as well.
Rather than get caught up trying to halt BYOD—which appears to be here to stay—smart businesses should support employees' choices. The first step is to identify a wireless service with specific small business services and expertise.
Wireless Services for Small Businesses
Many employers are uneasy about BYOD and security for good reason. Even the most conscientious employee can accidentally compromise company security. It makes sense for business owners to take matters into their own hands and support or give employees a choice of smartphones or tablets that help them with their work. This means purchasing a mobile plan and perhaps the actual devices. This can be daunting for a small business owner who doesn't want to face the wireless industry's penchant for unpredictable bills, overage charges and two-year contracts with steep early termination penalties.
But, this unpleasant scenario is changing. "The wireless industry has seemed determined to make things harder, not simpler, for small businesses" a T-Mobile spokesperson admitted to San Francisco Small Business Week in May 2014. "T-Mobile has cancelled our membership in the clueless carrier club." T-Mobile is providing a "Simple Choice" plan to small businesses, which includes unlimited talk, text and Web among other perks and extras.
While T-Mobile has dropped contracts altogether, ComputerWorld notes that the other major providers—AT&T, Verizon and Sprint—still have them but offer off-contract services as well. There are also many mobile virtual network operators (MVNOs) to consider. These services lease bandwidth provided by the Big Four and may even cost a bit less; however, few can provide a complete small business package that includes essential services such as roaming coverage, hotspots and visual voice mail.
Mobile providers offer a range of smartphones and tablets in both Android and iOS formats. MVNOs have a considerably smaller inventory to choose from than the Big Four. However, many services can unlock smartphones from competitor services to work on their networks as well, avoiding the cost for a new device.