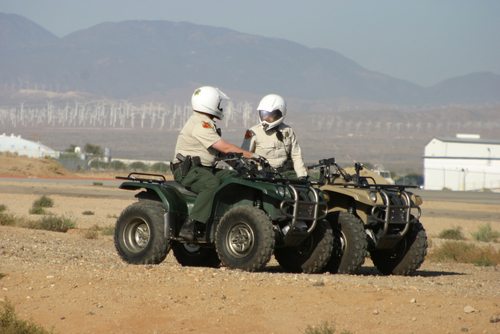 The patrolling area of Campo Station in Pine Valley, Calif., covers 13.1 linear miles of the border and 417.8 square miles in total. Much of it is largely undeveloped and contains one of the most rugged and difficult areas patrol, with dense vegetation, deserts and mountains that exceed 6,500 feet. Much of the terrain can only be accessed by all-terrain vehicles or by foot.
For the U.S. Department of Homeland Security and U.S. Border Patrol officers aiming to contain illegal immigration and drug and human trafficking, this poses a tough challenge. But since that fateful day of Sept. 11, 2001, the U.S. Government has ramped up security along its borders and is using impressive technology to help do the job.
Sites like Campo Station, where an estimated 7,000 vehicles pass through its checkpoints on a daily basis, is where this high-tech defense can be displayed.
Go-Go Gadget Patrolling
The U.S. Border Patrol still relies on old fashioned strategies like sniffer dogs to control illegal immigration and drug trafficking, but technology has given the agency an even bigger edge against smugglers and illegal aliens. X-ray cameras, radar and night-vision gadgets have been an extra help for patrolling the border.
By the time a car pulls up to a checkpoint, Border Patrol officers have already run its license plate run through a large computer database. As vehicles stop, officers drive along side them with a Z Backscatter Van with a mobile x-ray machine, which is mounted on a Ford F-550 chassis, to scan vehicles. Drivers and passengers then go through a digital fingerprinting process where data is pulled up from federal databases.
This year, in an effort to provide better coverage during the day and especially the night, U.S. Border Patrol officers are equipped with optical/infrared cameras and ground-scanning radar mounted on the flatbeds of trucks. The radar is capable of covering a radius of 15 miles, which cuts down the number of officers needed from 15 to three.
Eye In the Sky
In areas like Afghanistan, U.S. airmen are flying out of planes with dirt bikes into combat zones that provide a stealth and quick way to maneuver when they touch ground. At the U.S.-Mexican border, however, unmanned drones have been the aerial weapon of choice for the last few years.
Though U.S. Customs and Border Protection has indefinitely grounded drones after one of its drones had to be deliberately crashed because of unknown mechanical problems, the potential in what they can provide when they are functioning is invaluable. These drones can multitask as surveillance weapons, intercepting electronic communication and videotaping movement on the ground, or act as combat weapons, snuffing out any sort of dangerous conflict using attached weaponry.
The Predator drones, which cost $12 million each, weigh roughly 10,000 pounds and fly 20 hours nonstop. They can distinguish between an animal and a human being with a backpack and can intercept communication so well that it can pick up phone conversations.
Beast Mode Patrolling
The U.S. Border Patrol has used a variety of vehicles for the job. Typically, most stations use Chevy Tahoes and Ford Expeditions for their power, room and ruggedness. In recent years, it has been known to go with more aggressive vehicles, like Ford's F-150 SVT Raptor, a rugged vehicle with with almost a foot of suspension, and 6.2-liter V8, which can withstand the daily pounding it typically goes through on and off the road.
When things get pretty hairy though, they roll out the big guys — the Strykers. These are tank-like vehicles made by General Dynamics, a contractor with the military. Strykers aren't your typical tanks. They are more compact, can travel up to 69 m.p.h. and are loaded with state-of-the-art communication and tracking systems. These bad boys have been in the Border Patrol's ground fleet since at least 2012.
Just Can't Beat the ATV
When an officer has to go mobile and is on hot pursuit, the best choice of equipment is an all-terrain vehicle (ATV). Recently, Border Patrol officers at Texas' Del Rio Sector received 15 new Yahama Grizzly ATVs. These bad boys have a 4-stroke engine, a single camshaft with automatic transmission, four-wheel drive and differential lock.
Polaris is contracted with the U.S. military to provide side-by-sides, four-seated side-by-sides and "2 Up" ATVs. These vehicles have all the typical features, but also include features specific for Special Forces use. Your typical civilian ATV will have interchangeable parts and accessories you can typically find at a MotoSport store, but you're not going to see anything like a military-issued one, which is equipped with a belt-fed machine gun, a grenade launcher and a stretcher that is great for locations typical larger vehicles can't get to.
The added features allow Border Patrol officers to to get into hard-to-reach places and be equipped with enough necessary equipment and supplies to do the job. The special-equipped ATVs cut down on response time and allows Border Patrol units to patrol larger areas.