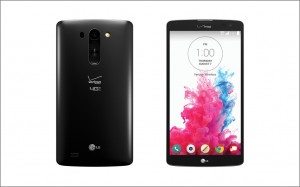 Smartphones come in all shapes and sizes – some have large screen devices, some have smaller screens. Having options allows customers to find the right device that fits well in their hands and has the features that match their lifestyles.
The new LG G Vista is an affordable option that gives users both a large 5.7-inch qHD display and battery for all-day use. Also, it's designed in similar fashion to the LG G3 with its rear power and volume keys, making it easy to reach with an index finger while holding it.
Having a large display has its advantages, and they start with entertainment. Reading books or watching videos can be a struggle at times with small phones, but not with the LG G Vista. And football fans can use the smartphone's screen to its full potential with NFL Mobile, which will offer access to live games at no additional cost for new and existing MORE Everythingcustomers with compatible smartphones for the entire 2014/2015 season.
In today's connected world, many people are constantly switching between apps or trying to multitask using one app at a time. The LG G Vista has a Dual Window feature that splits the screen, allowing for two apps to be viewed and used at the same time. Now, looking for a place to eat on Google Maps while texting a friend about it can be done on one screen.
The LG G Vista can also be used one-handed as if it were a smaller compact device. Swiping left or right across the home button keys activates Mini View and scales the screen so everything is within a thumb's reach.
The XLTE Ready LG G Vista will be available online and in Verizon Wireless stores starting July 31 for $99.99 with new two-year activation. The Verizon Edge program is also available for eligible customers who want to upgrade.
en devices, some have smaller screens