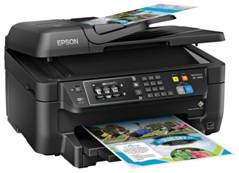 LONG BEACH, Calif. – Sept. 3, 2014 – Epson America, Inc., a leading provider of superior performing printing solutions, today announced the Epson WorkForce® 2600-Series all-in-one printers designed for the home and small office. The WorkForce WF-2660 and WF-2650 leverage Epson's PrecisionCore™ printhead technology and offer a unique combination of performance and value in a compact design for businesses, delivering laser-sharp black and color text printing, professional quality prints and easy wireless printing at an affordable price.
The WorkForce WF-2660, WF-2650 and WF-2630 expand Epson's existing line of WorkForce printers built for business, and include enhanced connectivity options to make printing from tablets and smartphones easier than ever. The WorkForce WF-2660 supports NFC1 touch-to-print capabilities, and all printers include wireless and Wi-Fi Direct2, which means no router is required for printing and scanning. The WorkForce 2600-Series is also equipped with Epson Connect™ for the ability to print and scan documents, photos, emails and web pages from a tablet, smartphone or computer from literally anywhere in the world3.
The WorkForce 2600-Series offers increased productivity features including laser-quality prints at fast print speeds, a 30-page Auto Document Feeder and scan-to-cloud4capabilities. In addition, these models feature DURABrite® Ultra Inks that deliver smudge, fade and water resistant prints in affordable individual ink cartridges, so users only have to replace the color needed.
"Epson underscores its commitment to SOHO users with our new line up of impressive, high-value WorkForce models," said Nils Madden, marketing director, Desktop Imaging and Printing, Epson America, Inc. "The WorkForce 2600-Series is a cost-effective solution for business users, without sacrificing the high-quality and ease-of-printing features our customers expect."
Laser-like Performance: Powered by PrecisionCoreTM
The WorkForce WF-2660 and WF-2650 are powered by PrecisionCore, Epson's next generation technology. PrecisionCore features Epson's advanced thin-film piezoelectric (TFP®) elements, which are produced via a MEMS manufacturing process using semiconductor micro-fabrication techniques. At the core of this proprietary technology is the PrecisionCore MicroTFP print chip that can be arrayed in various printhead configurations. Each nozzle on the printhead delivers up to 50,000 droplets per second for increased precision and print quality. The WF-2660 and WF-2650 incorporate an S1 (one chip) printhead configuration.
Fast Speeds and High Performance Features in a Robust, Reliable Design
The WorkForce WF-2660 and WF-2650 produce professional quality prints at speeds of 13 ISO ppm (black) and 7.3 ISO ppm (color)†. Both models offer a 150-sheet paper capacity and up to 50 percent savings on paper with automatic two-sided printing/scanning/copying/faxing. The WF-2660 includes a 2.7" color touchscreen, and the WF-2650 features a 2.2" mono graphics display for easy menu navigation and control.
Big Savings in a Sleek, Compact Design
The WorkForce WF-2630 offers an unprecedented compact design – the smallest in its class5 – making it ideal for space-constrained work areas. It offers a 100-sheet paper capacity and saves time with fast speeds – 9 ISO ppm (black) and 4.5 ISO ppm (color)† – to produce professional-quality prints and crisp, vibrant color business documents at an affordable price ($99). The WF-2630 also features a 2.2" mono graphics display easy navigation.
Additional WorkForce 2600-Series features include:
–       Epson Connect3 –  a suite of free mobile printing solutions including Email Print, Epson Creative Print, Epson iPrint™, Epson Remote Print and Epson Scan to Cloud, to print documents, photos, emails and web pages from remote locations to any Epson Connect-enabled printer
o   Supports Android™ Printing, Kindle Fire™ Printing and Google Cloud Print™
o   Epson Connect Solutions Finder is available to help users quickly determine and compare which mobile solution supports their mobile devices or printer
–       Offers fax and PC-fax capabilities
–       Robust product design – designed to be jam free6 for increased reliability
–       Uses up to 70 percent less power than laser printers7
Pricing and Availability
The Epson WorkForce WF-2660 ($149.99) and WF-2630 ($99.99) will be available in late September and the WF-2650 ($129.99*) will be available in late October through major computer, office and electronic superstores, mail order, and the Epson Store, www.epsonstore.com. For more information and availability, please visitepson.com/workforce.
About Epson
Epson is a global innovation leader dedicated to exceeding expectations with solutions for markets as diverse as the office, home, commerce, and industry. Epson's lineup ranges from inkjet printers, printing systems and 3LCD projectors to industrial robots, smart glasses and sensing systems and is based on original compact, energy-saving and high-precision technologies.
Led by the Japan-based Seiko Epson Corporation, the Epson Group comprises more than 73,000 employees in 94 companies around the world, and is proud of its ongoing contributions to the global environment and the communities in which it operates. Epson America, Inc. based in Long Beach, Calif. is Epson's regional headquarters for the U.S., Canada, and Latin America. To learn more about Epson, please visit: www.Epson.com.
You may also connect with Epson America on Facebook (http://www.facebook.com/Epson), Twitter (http://twitter.com/EpsonAmerica) and YouTube (http://www.youtube.com/EpsonAmerica).
#
Specifications are subject to change without notice. EPSON, DURABrite TFP and WorkForce are registered trademarks, Epson Exceed Your Vision is a registered logomark, and Epson Connect and PrecisionCore are trademarks of Seiko Epson Corporation. All other product and brand names are trademarks and/or registered trademarks of their respective companies. Epson disclaims any and all rights in these marks.
*Estimated street price
† Black and color print speeds are measured in accordance with ISO/IEC 24734. Actual print times will vary based on system configuration, software, and page complexity. For more information, visit www.epson.com/printspeed.
1 Near Field Communication (NFC) only available on WorkForce WF-2660 model. NFC requires use of a device that includes NFC, and may require additional software.
2 Wi-Fi CERTIFIED™; level of performance subject to the range of the router being used. Wi-Fi Direct may require printer software.
3 Most features require an Internet connection to the printer, as well as an Internet- and/or email-enabled device. For a list of Epson Connect enabled printers and compatible devices and apps, visit www.epson.com/connect
4 Scan to cloud requires an Internet connection, a free Epson Connect account and a destination email address or cloud storage account. For a list of supported cloud services, visit www.epson.com/connect
5 Smallest footprint among color inkjet all-in-ones (print, copy, scan and fax) priced $99 or less as of January 2014
6 Performance will vary based on print task and use conditions.
7 Compared to best-selling, color multifunctional laser printers priced at $499 (USD) or less, as of March 2014. Actual power savings will vary by product model and usage.