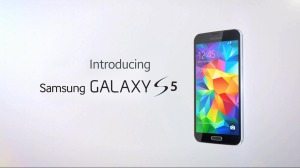 Samsung has been great with their Galaxy S line of phones up until this point. Does the Galaxy S5 live up to  the name? Lets find out.
Lets start off with the looks. The Galaxy S5 keeps the same form factor as the previous models with a slightly larger screen at 5.1″ The screen is a 1080p SuperAMOLED with a pixel density of 432ppiwhich is still greater than the just released iPhone 6. You can use this screen to  watch all your favorite TV shows, Movies, and YouTube video's in the same high quality that you would get on your TV.  The screen is very bright and easy to read even in bright sunlight. There is also auto brightness to set your screen's light to ambient lighting. This is one of best screens out on the market right now.
The Galaxy S5 is powered by a Qualcomm SnapdragonQuad-Core Processor with a Adreno 330 Graphics Processor. This not only gives you speed, but the battery life you expect to get from a daily use smart phone.  To help keep the phone running smoothly, Samsung has given the S5 2GB of system memory.  If you like storing your video's and music on your device, there is 16GB of built-in memory and a MicroSD card slot to add up too another 128GB of memory.
For those of you that use your phone as a camera to catch-all those daily moments you don't want to forget, the S5 has a 16 MP rear facing camera with a F2.2 Aperture. This gives you high quality HD pictures that you could print up and frame. Some of the features the camera includes are, Autofocus, Phase detection autofocus, Touch to focus, Manual focus, Digital image stabilization, Face detection, Exposure compensation,  White balance presets, Burst mode, Digital zoom, Geo tagging, High Dynamic Range mode (HDR), Night mode, Scenes, Effects, Self-timer, and Voice activation.The front facing camera, for those of you that love snapchat or video conferencing, is 2.1MP. THe Camera records live video in 4K at 30 fps quality and features Image stabilization and HDR.
To keep your phone running, the S5 has a 2800 mAh battery. The stated battery life is 21 hours of talk time. We all know that phones get mostly used for games and social media. Average usage time  I could get with heavy data is about 7-9 hours depending on signal strength and if I am on Wi-Fi or not. With all things considered, this is decent battery life.
Other features that are included with the Galaxy S5 include Wi-Fi 802.11 a,b,g,n, n 5GHz, and AC. Also there is NFC, ANT+, and infrared.
Onto some of the nicer features that the S5 offer is the S Health App. This app tracks everything from your heart rate, to the amount of steps you take, and tracks your calories to help you get in shape, and then stay there. On the back of the phone right next to the flash, is the heart rate monitor. You open the app, place you finger on the sensor, and it will measure your heart rate. With testing, I found that the sensor was surprisingly accurate for being on a phone. With the app, you can keep track of all your excercise whether you walk, run, hike, or bike. If you pair this with a Galaxy Gear Watch, you can very accurately keep track of all of your workouts very easily.
Easily one of my favorite features of the Galaxy phones is that on the onscreen keyboard, Samsung has an extra row at the top for your numbers. This saves time if you use numbers a lot. (it's the little things that make me happy)
Overall, it's hard to beat the S5 with Android, and spec's that beat phone just now being released. Also, with being on the Nations Largest 4G network, you don't have to worry about not having service.
The Samsung Galaxy S5 in available from Verizon Wireless now for $199.99 with a new 2 year agreement or $29.99 a month on the VERIZON Edge  plan. You can choose from either white or black. If you would like to get a car charger and screen protector with your phone, you can go with the Galaxy S5 Bundle for $269.00 with a new 2 year agreement, or the same price on the VERIZON Edge plan.