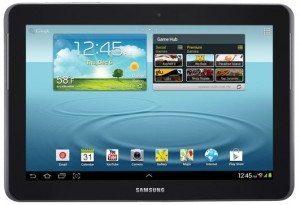 When it comes to tablets, the screen makes all the difference. Displays on tablets have evolved past just looking at photos or watching videos. Samsung's Galaxy Tab S 10.5 takes high-resolution displays to the next level.
The new Samsung Galaxy Tab S has a WQXGA Super AMOLED® display with 4 million pixels — that's twice the resolution of an HDTV. The display has a wider color range, deeper contrast, truer blacks, and  an adaptive display that automatically adjusts color, sharpness, and contrast based on what you're viewing and where.
Samsung's Papergarden™ app was designed for the Galaxy Tab S and turns it into a mobile magazine stand. The Samsung Galaxy Tab S 10.5 is 6.6mm thin and weighs about a pound, so it's comfortable to hold while skimming through your favorite magazines. It also makes it easy to take your magazines with you instead of having a pile of them at home.
The tablet also supports Multi User Mode which allows multiple members of the family to share the tablet and have individual customized profiles. And the fingerprint scanner not only lets you secure the device with a swipe of a finger but it can also unlock different user profiles in Multi User Mode.
Messaging apps are another way to make tablets a more versatile tool. Verizon Messages lets you text from your tablet without having to use your smartphone. You can read a digital magazine on Papergarden and text friends about it instead of reading on one device and texting on the other.
The XLTE-ready Samsung Galaxy Tab S 10.5 will be available online and in Verizon Wireless stores starting Sept. 18 for $599.99, and for a limited time, the tablet will be available for $499.99 with new two-year activation. Users will be able to add the tablet to their existing MORE Everything accounts for an additional $10 monthly access fee.
OS
Android 4.4 KitKat
SideSync 3.0
View your compatible Galaxy smartphone screen on the tablet with full access and functionality to the phone
Camera
8-megapixel rear-facing camera with flash and 2.1-megapixel front-facing camera
Storage
16 GB internal storage (formatted capacity is less) and supports up to a 128GB microSD card (sold separately)

More Everything customers receive 25GB cloud storage on Verizon Cloud at no additional charge

Battery
7900mAh with Ultra Power Saving Mode – Turns screen to black and white and shuts off all nonessential apps to save battery life
Multi Window™
Allows users to open up to two compatible apps  at once
Samsung, Galaxy Tab, Super AMOLED, Multi Window, and Papergarden are trademarks of Samsung Electronics Co., Ltd.