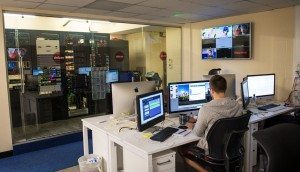 PITTSBURGH, PA – September 23, 2014 – Avere Systems, a leading provider of enterprise storage for the hybrid cloud, is the driving force behind the transcoding, editing and quality-control of content provision supplied by Deluxe Media Acton, formerly ITFC, for major broadcasting companies in the United Kingdom.
Deluxe uses Avere FXT Edge filers to ensure that content for major broadcasters meets compliance regulations for consistent quality and loudness standards. From the roaring engines and bold colors of Formula 1, to the below-stairs whispers and richest black-of-mourning clothes in "Downton Abbey," Deluxe must ensure everything is flawlessly discernible and consistently authentic to viewing audiences.
The Deluxe team works to demanding schedules to deliver on comprehensive service level agreements (SLAs). Its reputation for always meeting its commitments has led to rapid growth and increased demand for the company's services. In 2013, Deluxe agreed to provide a major broadcaster with five times its normal weekly content. The company looked to Avere to provide the storage system to handle the increased load with high-speed access, performance and agility.
Gez Quinn, head of Technical Services at Deluxe Media Acton, said, "Clients depend on us to deliver some 700 hours of broadcast material every week. Our IT infrastructure must be fluid enough to absorb the varied input from content providers and sufficiently powerful to handle the heavy workloads of transcoding, editing and quality-control."
The Avere FXT Series cluster provides high-speed I/O to a transcode farm and non-linear editing (NLE) workstations used for content preparation, subtitling and audio description services. The new system has brought multi-dimensional cost benefits.
"Avere lets us deliver higher quality within our existing pricing schedules," Quinn said. "To achieve equivalent performance with traditional storage arrays, we'd have spent as much as 40% more. In addition, we've increased capacity by 500% for one of our major broadcasters."
"Avere is proud to play a part in the high-quality broadcast content that Deluxe Media delivers. We're pleased to have added measurable value while eliminating performance challenges so Deluxe can focus on their core business – delivering content within stringent deadlines," said Ron Bianchini, president and CEO at Avere.
About Avere Systems
Avere is radically changing the economics of data storage. Avere's hybrid cloud solutions give companies – for the first time – the ability to put an end to the rising cost and complexity of data storage by allowing customers the freedom to store files anywhere in the cloud or on premises without sacrificing the performance, availability or security of their data. Based in Pittsburgh, Avere is led by veterans and thought leaders in the data storage industry and is backed by investors Lightspeed Venture Partners, Menlo Ventures, Norwest Venture Partners, Tenaya Capital, and Western Digital Capital. For more information, visitwww.averesystems.com.