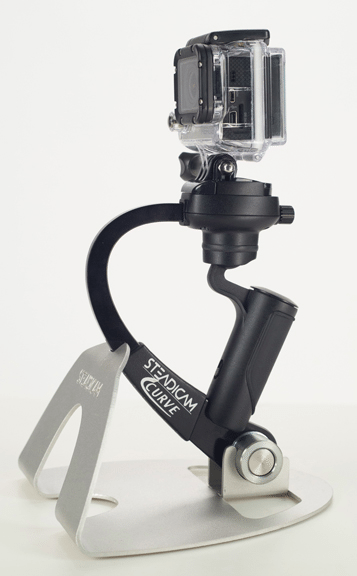 Hauppauge, NY — August 28, 2014 — The Tiffen Company, a leading manufacturer of award-winning digital imaging accessories, announced the availability of the much-anticipated Steadicam® Curve® for GoPro®, Steadicam's most lightweight and compact camera stabilizer yet, both online and in stores.
A stealth camera stabilizer from the Academy Award-winning Steadicam family of products, Curve is designed specifically for action-packed, one-handed GoPro camera shoots. Combining Curve's compact form factor with Steadicam's legendary stabilization technology, the possibilities for shake-free video are now endless for GoPro users. For the most adventurous shoots, GoPro users can lock in the ergonomic handle for a rock-solid grip. Weighing in at just a half-pound, Curve is the perfect accompaniment for any journey, be it shooting school sports, taking it for a thrill ride in the skate park, or zooming down a mountain on skis or snowboard.
"At Tiffen, we're constantly striving to develop pioneering products that address the needs of the digital imaging community, which has grown and diversified exponentially in just the past few years thanks to exciting innovations from companies like GoPro," says Steve Tiffen, President and CEO, The Tiffen Company. "With GoPro filmmaking now at an unprecedented level, we knew we had to design a Steadicam device laser-focused on the needs of these action users. We're excited to see Curve on shelves across the country, and look forward to viewing the never-before-possible adventure shots GoPro users create with the help of Steadicam Curve."
Steadicam Curve has already made its mark on the digital imaging community, winning numerous industry awards, starting with its reveal at CE Week in 2013, where it earned the covetedDealerscope CE Week Line Show 2013 Best in Show Premier Product award in the Digital Imaging category. The accolades continued to roll in at CES 2014, where Curve took homeVideomaker's Best Camera Support Award. Most recently, at NAB 2014, Curve was honored as a finalist at StudioDaily's 2014 Prime Awards.
Steadicam Curve Product Features and Benefits
Lightweight, durable aluminum frame
Standard GoPro® quick-release mount
Fine tune adjustment knob for precise balance
Collapsible handle for compact storage and portability or for use as a GoPro® hand grip
Built-in mount works with GoPro® HERO®, GoPro HERO2® and GoPro® HERO3/3+® (LCD BacPac® or LCD Touch BacPac® required)
Available in four colors: Black, Blue, Red, Silver
Weight: ½ lb.
Height: 6?"