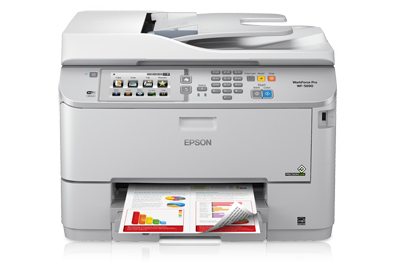 LONG BEACH, Calif. – Oct. 7, 2014 – Epson America, a leading provider of exceptional performing business solutions, today announced the WorkForce® Pro WF-5690 earned a Bronze Golden Bridge Award in the Best Products and Services from All Over the World category. The coveted annual Golden Bridge Awards program encompasses the world's best products from every major industry in the world. The winners were honored during the awards dinner and presentation on Sept. 30 in San Francisco attended by the finalists, industry leaders, and judges.
More than 40 judges from a broad spectrum of industry voices from around the world participated and their average scores determined the 2014 Golden Bridge Business Awards winners. The WorkForce Pro WF-5690 was recognized due to it fast print speeds, laser-like color and black text and the inclusion of PrecisionCore™ technology, Epson's innovative printhead technology. In addition, the WorkForce Pro was the only printer included in the overall category.
"The WorkForce Pro WF-5690 is a powerful multifunction printer that delivers performance beyond laser and it's an honor to be named a winner by Golden Bridge Awards and recognized by esteemed industry leaders," said Larry Trevarthen, director, Business Imaging, Epson America, Inc. "This is an exceptional accolade, considering we submitted in a worldwide category, and a testament to Epson's commitment as a leader in innovation and in providing exceptional printing solutions to drive productivity for workgroups."
WorkForce Pro WF-5690 for Networked Business Environments
The WorkForce Pro WF-5690, powered by PrecisionCore, delivers 50 percent lower printing costs than lasers1 as well as fast print speeds of 20 ISO ppm (black) and 20 ISO ppm(color) † and a duty cycle of up to 45,000 pages per month2. Additional features include IT tools such as remote setup and custom settings for multiple printers, and support for security protocols to protect confidential documents. The printer also supports PCL and PostScript, and is available with a best-in-class three-year limited warranty. The WF-5690 is available is available through the Epson ImageWaySMPartner Program to channel partners and through select commercial channel partners.
About the Golden Bridge Awards
Golden Bridge Awards are an annual industry and peers recognition program honoring best companies in every major industry from large to small and new start-ups in North America, Europe, Middle-East, Africa, Asia-Pacific, and Latin-America, Best New Products and Services, Best Innovations, Management and Teams, Women in Business and the Professions, Case Studies, Customer Satisfaction, and PR and Marketing Campaigns from all over the world. Learn more about The Golden Bridge Awards at www.goldenbridgeawards.com
About Epson
Epson is a global innovation leader dedicated to exceeding expectations with solutions for markets as diverse as the office, home, commerce, and industry. Epson's lineup ranges from inkjet printers, printing systems and 3LCD projectors to industrial robots, smart glasses and sensing systems and is based on original compact, energy-saving and high-precision technologies.
Led by the Japan-based Seiko Epson Corporation, the Epson Group comprises more than 73,000 employees in 94 companies around the world, and is proud of its ongoing contributions to the global environment and the communities in which it operates. Epson America, Inc. based in Long Beach, Calif. is Epson's regional headquarters for the U.S., Canada, and Latin America. To learn more about Epson, please visit: www.Epson.com.
You may also connect with Epson America on Facebook (http://www.facebook.com/Epson), Twitter (http://twitter.com/EpsonAmerica) and YouTube (http://www.youtube.com/EpsonAmerica