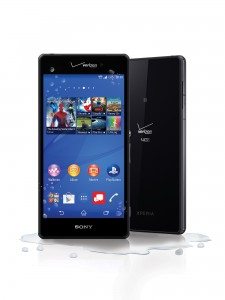 For many of us, the smartphone is our entertainment, camera, and way we stay connected with everyone. The new and exclusive Sony Xperia Z3v is a smartphone that brings PS4™ gaming with Remote Play, a 20.7-megapixel camera, and 4G LTE connectivity.
We carry our smartphones everywhere we go. And because of that, it's important that it can survive everyday life. The Xperia Z3v is designed to be waterproof so it can withstand life happenings such as when you accidentally spill you drink on it, drop it in a puddle, or have an unlucky day and get caught in the rain while using it.
The smartphone is also designed for entertainment by combining a 5.2-inch Full HD display with S-Force Front Surround™ speakers. The bright TRILUMINOS display and speakers can really be put to good use with music and movies. An entertainment bundle will be included with the Xperia Z3v at no additional cost. You will get 30 days of free music streaming though Music Unlimited and six preselected blockbuster movies to download and own from Video Unlimited.
Gaming on the Xperia Z3v will soon be more than just downloading a game from an app store. It will be extending console gaming to the smartphone. PS4™ Remote Play on Xperia Z3v will let you stream and play PlayStation®4 games wherever you are on your home Wi-Fi network; lying in bed, hanging out in the backyard, or sitting on the couch watching TV. PlayStation®4 gaming through PS4™ Remote Play will be available in November. A DUALSHOCK®4 Wireless Controller ($59.99) and GCM10 Game Control Mount ($39.99) will also be available soon to complete the PS4™ Remote Play gaming experience.
Our smartphones have become our cameras, so having the right features can make the difference between a picture you share and one you delete.
The Z3v has a 20.7-megapixel with a variety of creative Xperia Camera apps to choose from including Multi-camera Control and Face in. Multi-camera control allows you and two other friends capture video from multiple angles simultaneously and save it as a combined video. Face in lets you take photos and videos using both the rear and front camera at the same time. The Z3v can also record in 4K resolution for those special moments you want to capture on video.
Trying out the different camera features is half the fun, but sharing that photography can be just as fun. 4G LTE connectivity lets you post and share pictures and videos quickly for friends to see.
Wearables like a smart watch let you extend smartphone features and experiences to the wrist so you can get information and see what's going on in your life without taking out your smartphone. The upcoming Sony SmartWatch 3 will be the first smartwatch specifically designed for the upcoming Android Wear updates. With SmartWatch 3 you can check social media, calendar updates, weather, and use voice commands to send texts and more. The Sony SmartWatch 3 will be available soon from Verizon Wireless.
The XLTE-ready Sony Xperia Z3v will be available online and in stores starting Oct. 23 for $199.99 with a new two-year activation. Verizon Edge will also be available for eligible customers. For a limited time, customers who purchase the Sony Xperia Z3v smartphone can get $200 off a Sony Xperia Z2 tablet when purchasing with two-year activation per device.
 OS
Android 4.4 KitKat
Processor
2.5GHz quad-core processor
Storage
32 GB internal storage (formatted capacity is less) and supports up to a 128GB microSD card (sold separately)

More Everything customers receive 25GB cloud storage on Verizon Cloud at no additional

Battery
3200mAh with STAMINA Mode for more than a days worth of use

Built-in Wireless Charging support

Durability
IP65 and IP68: Z3v is protected against the ingress of dust and is waterproof. Provided that all ports and covers are firmly closed, the phone is protected against low pressure jets of water from all practicable directions and can be kept under 4.9 feet of fresh water for up to 30 minutes