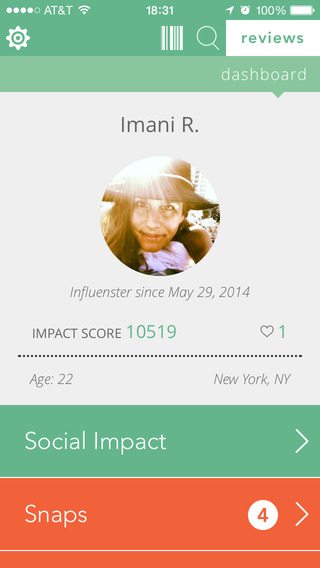 NEW YORK, NY–(Marketwired – October 15, 2014) – Influenster, the leading online community of educated social media-minded consumers and influential tastemakers, today announced the launch of its brand new mobile app, available now in the iOS app store. Designed as an on-the-go companion to Influenster's word-of-mouth community and product discovery platform, this powerful new app offers access to over five million authentic product reviews, photos, videos, price comparisons, and Q&A sessions.
More importantly, the app allows users to search, discover, and discuss over 1M products from more than 40k leading consumer brands. These products are complemented by a growing 2.6M first-hand reviews across food and beverage, health and beauty, retailers and services, fashion, and entertainment categories.
One of the most notable features/capabilities of the app — the Barcode Scanner — gives users access to product reviews, Q&A's, and price comparisons on-the-go to help them make real-time product decision while they shop.
Additionally, with the Influenster mobile app, members can tap into the 'network effect' to get real-time answers about any product. It is like having one million shopping assistants in the palm of your hand.
The app also offers access to engage in exclusive campaigns, sales, and promotions, including Influenster's coveted VoxBoxes. Other features in the app include:
Reviews — Discover, learn and share honest opinions about products, retailers, and services
Social Impact — Measure a user's reach across all his or her social networks, allowing them to gain rewards based on how influential he or she is
Snaps — Quick questions that allow users to share a little bit about themselves, so that they are individually paired with the best programs/offers for them
Badges — Trophies users unlock that showcase their interests and expertise
VoxPerks — Redeem exclusive offers from popular brands partnering with Influenster
"Influenster has become an extraordinarily powerful driver for product discovery and purchasing," said Aydin Acar, Co-Founder and CEO of Influenster. "The most exciting aspect of our new app is the new Barcode Scanner, which makes it easier than ever for Influensters to check product reviews and reactions right from their smartphone in the aisle of leading brick-and-mortar stores."
By making product discovery easy, effective and fun, Influenster has already seen a 350% increase in consumer generated reviews since it introduced its new product discovery platform.
About Influenster
Influenster is a community of trendsetters, social media hotshots, and educated consumers who live to give opinions of products and experiences. Brands such as Victoria's Secret, Kraft, Sony, L'Oreal, Coca Cola, P&G and Unilever among many others have partnered with Influenster to introduce and expose their products to this community. Influenster was founded in 2010 by Elizabeth Scherle and Aydin Acar. For more information visit:www.influenster.com.