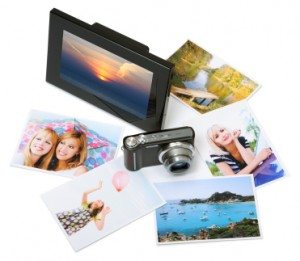 This weekend I was at a friend's wedding and during the reception there was a projection screen showing pictures from the bride and groom's childhoods. The silly poses, unflattering haircuts, and yellowish tint of pictures taken in mid-80's got me to thinking. Mine is the last generation who will ever have photographs like this. With the modern day of Smartphones, children today will look back on perfectly filtered images of their childhood. Those unflattering pictures will have been weeded out, deleted, and never to be seen again; well, unless you're prestigious enough to get your iCloud hacked.
This unfortunate realization got me searching on the Internet to alternative photo options that would create authenticity of living in the moment like the faded old photographs in our family albums. I was surprised and excited to see that Polaroid still makes instant cameras that print photos the old school way. Colorful and technologically updated versions of the classic still image camera can be bought at major retailers and online coupon sites like http://www.frugaa.com/. These cameras allows one to print photos immediately and doesn't give the modern day option of filtering or cropping out; instead, it's about appreciating the moment and having a memento of good times.
Frugga.com also provides coupons for other photo options like more traditional digital cameras. A word of advice when it comes to consciously trying to limit yourself on editing the photo documentations of your life; allow yourself to print real images using sites like Shutterfly or Canvas Prints, all of which are currently offering coupon codes that provide free pictures just for joining their website.
Several years ago I travelled to London and relied solely on my Smartphone's camera to document my trip. Those pictures have been trapped in my phone or uploaded to social media sites, but I don't have them as an actual souvenir like I would if I took the trip prior to Smartphone camera advancements. Since, I've invested in a good digital camera and make a point to create albums of all my travels; this way, I have something to pass down to family and to show friends as a conversation piece rather than having them just scroll through my Instagram feed and "like" random pictures where I changed the color of the sky or cropped out a stranger in the background.
While we all love technology, and I won't be giving up my iPhone anytime soon, I'm learning to not rely on editing the important moments of my life, I am learning to allow myself to be captured as I was in the first take and let those pictures be a physical part of my everyday life; that is the true meaning of #nofilter.