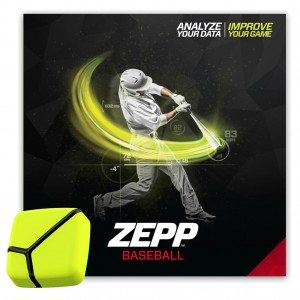 Baseball season may have just ended, but it's never too soon to get ready for next year. . Lets just say your kid didn't do  as good as he wanted to,  or as good as you think he should.  Do you shell out lots of money for batting and hitting coaches or do you head over to your local Verizon Wireless Store or VZW.com and pick up The Zepp Baseball Swing Analyzer? I going to choose the second. Lets take a look at the system and I'll show you why.
The Zepp Baseball Swing Analyzer is an easy and unique way to not only see the stats of your baseball swing, but a great way to show you how to improve your swing.
In the package is the Swing Analyzer, the bat mound, and a charger. The charger plugs into any USB Plug. You can also use the charging cable to transfer your data also.
To hook up the Zepp, all you have to do is place Zepp Motion Sensor  in the yellow holder and attach t to the base of the bat. The rubber is flexible enough to make it easy to put the sensor into the holder and onto the bat, but sturdy enough to stay in place with even the fastest swing.
Zepp Baseball works with both Android and  Apple Devices.  Download the app to your respected device and then you can link the Motion Sensor to your device to begin analyzing your swing.
To start out, you can personalize the app for each individual user. This makes it very useful if you want to keep track of the progress of each individual if you choose to use this for a team, or if you have multiple people in your family playing. You can customize each person by name, height, bat type, bat length,
The Zepp Baseball Swing Analyzer comes with a charger, Analyzer, and the rubber housing to mount to the bat.
With the Zepp Baseball Swing Analyzer you can see in real-time the statistics of your swing such as speed, swing pattern, speed of that bat at time of contact with the ball, attack angle, angle at impact, and time from start of swing to impact.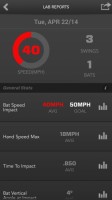 With this Zepp Swing Analyzer you can keep track of where you improve or where you are regressing with your baseball swing.
Overall, the Zepp Baseball Swing Analyzer is a great way for you or your kid to help improve their swing without having to spend thousands on a baseball instructor. Combine the ease of setup and the ease of use, not to mention the price of only $149.99 you can't go wrong with this helpful way to give your kid a step up on the rest of the team.
Check out Verizon Wireless for the Zepp Baseball Swing Analyzer and all the other great Zepp sports products they offer.