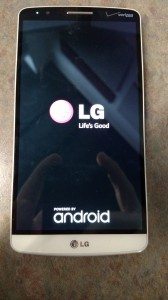 LG has kept to form with the LG G3. The updated version of the G2 keeps the same form factor and keeps the power and volume buttons on the back side of the phone. How does it handle and is it right for your? lets find out.
The G3 for Verizon Wireless comes in both Black and White versions with 32GB of built in memory. You can expand your memory with the built in microSD card slot up to another 128GB. This gives you the ability to have up too 160GB of storage on your phone.
The screen of the G3 is 5.5″ and features a IPS LCD screen with a resolution of 1440 x 2560 and a pixel density of 538 ppi.  This gives the G3 one of the best Screen Resolutions and Pixel Density of any phones out there. Combine this screen with the available storage and you can load all your movies onto the G3 and watch them clearly and easily.
Lets talk about the camera. The front facing camera is 2.1MP which works great for Skype, Google Hangouts, OoVoo, or any other Video Chat software you may use. Now the Rear Facing Camera. 13.2 MP. The camera has a laser focus that can focus on an object in motion and take a picture as if it was a still. The clarity with the f2.4 apeture is amazing. The photo quality is one of the best I have seen. This is probably one of the closest devices that could replace your camera. One of the great camera functions with this phone is that if your screen is off, you hit the volume down button it activates the camera. Hit the volume down button again and it will take your picture. This makes it that much easier to take that spur of the moment photo.
To power the G3 LG put a Qualcomm Snapdragon 801 Quad Core Processor running at 2500 MHz. Add the 3GB of RAM and this phone not only runs quick but has very good battery life. Per the Verizon web page the LG G3 has up to 18.6 hours of usage time. With my heavy gaming and internet usage I would get about 6 hours from the 3000 mAh battery.
Overall the LG G3 is a great successor to an already good LG lineup. The G3 is available from Verizon Wireless for $149.99 with a 2 year agreement or $24.99 on EDGE.