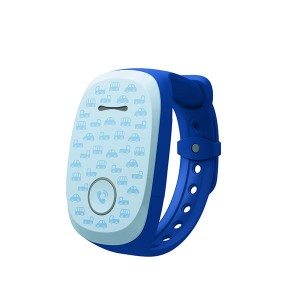 New kid-friendly wearable puts parents just one button away
The school day is over, and you're wondering where your child is but then remember you can't actually call them because they don't have a cell phone. Now with LG's newest wearable, GizmoPal by LG, your kids are within reach in a simple and fast way for the family.
Having two way communications between you and your child should be simple, even in this day and age. The GizmoPal is designed for the children anywhere from pre- to middle- school, to easily make and receive phone calls using its single button calling and Auto-answer features. All the child has to do is press a button to make or answer a call, followed by speaking into GizmoPal and listening through its speaker—no complicated steps that can cause confusion. The child is able to place a call to a primary or secondary caregiver and can receive calls from two additional approved contacts. GizmoPal's family-focused functionality is matched by a durable, kid-friendly design that is built to withstand the playground's most ambitious set of monkey bars.
The new wearable has a second piece to the experience – the GizmoPal app lets parents easily manage their child's GizmoPal. Parents can install the app on their Android device, like the LG G3, or iOS device so they can locate their child using GPS technologies*. Parents with Android smartphones can also receive their child's anticipated location information automatically at pre-scheduled times through Location Check, letting them know where their child is at specified times. For example, if you know your child normally gets home from school at 3:15pm you can set a reminder for that time and get a notification on your phone so you know whether your child gets home on time. This helps aid parents in keeping track of their kids throughout the day.
Both parents and their child will have the option of Blue or Pink, and is designed for kids 4 and older. And for additional fun, the GizmoPal can play fun sound clips for kids and also read out the current time.
The GizmoPal by LG will be available starting Nov. 26 online at www.verizonwireless.com for $79.99. The wearable will also be available in select stores in the Midwest on Nov. 26 and in all stores nationwide starting Dec. 11. Users will be able to add the GizmoPal to their existing MORE Everything accounts for an additional $5 monthly access fee. And for a limited time, customers purchasing the GizmoPal will have the activation fee waived.
*Your child's GizmoPal band needs to be turned on and have a wireless network signal. Locating the band can take up to 2 minutes. The location information provided is an approximate location of the GizmoPal band and results are not guaranteed.