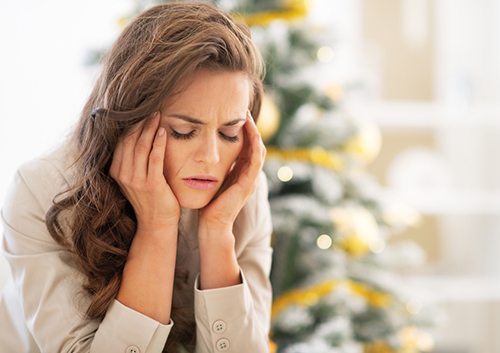 You know it's time for some R&R if you cringe every time a Christmas song comes on the radio. Ninety percent of Americans get stressed out during the holidays, according to a survey by the Consumer Reports National Research Center. Don't turn into a Grinch this holiday season – instead, keep stress at a minimum with a little assistance from technology.
Keep Track of Spending
An American Psychological Association survey found that lack of money is considered the biggest holiday stressor. Avoid overspending with the Christmas Gift List app, available for Android and iOS. The app makes it easy to add gift ideas for each person on your list and mark gifts as purchased. Additionally, it keeps track of how much money you've spent and your total budget. Allocating a dollar amount for each person before you start shopping and sticking to that amount is the best way to keep money worries at bay.
Listen to Soothing Sounds
Slow, quiet music can decrease the levels of stress hormones, according to PsychCentral. The Sound+Sleep Nomad system by ASTI is a portable gadget that comes with 48 unique sounds and radio capabilities. Weighing a little less than a pound, the Nomad system is ideal when you want to relax after a long day of bargain hunting or listen to ambient noise while you're cooking the holiday feast.
Watch Relaxing Scenes
The iPad can be a great stress-relief tool. The Magic Window app turns your iOS tablet into a visually soothing aid. Melt your worries away by choosing from 22 scenes, including sunsets, cities, mountains and beaches. Magic Window also comes with an alarm clock and a sleep timer, making it perfect for bedtime. Don't own an iPad? There are plenty of relaxing scenes available online, like this festive three-hour fireplace video on YouTube.
Create a Digital To-Do List
There's no denying that the holidays are a busy time. Stay sane this season by creating a comprehensive to-do list. There's no better feeling that checking off all the things you got done during the day. The 2Do app, available for iOS and Android, lets you categorize daily chores and mark tasks as done. The app is perfect for individuals who want to have work and home related to-do lists in one place but don't want to use a physical planner.
Protect Your Tech
Of course, most of these tips wouldn't be useful without our beloved gadgets. Keep technology from becoming the source of your stress by investing in a smartphone protection plan from Protect Your Bubble. It covers shattered screens, liquid damage and mechanical breakdowns with next-day replacement service. There's nothing quite as headache-inducing as being stuck without your trusty tech companion during the holidays. This was you're covered if you accidentally cook your iPhone along with the Christmas ham or your aunt's pooch mistakes your Android for a chew toy.
It's Christmas in the digital age, and with a little help from technology, you can turn your Christmas from jaded to joyful.