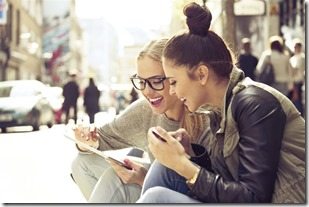 (BPT) – America is made up of a patchwork of different opinions, voices and people who have come from every corner of the planet. From such diversity, politicians, historians and ordinary people often ask and debate the question: What unites the country?
While it's unlikely such a big question will be answered soon, breakthrough techniques in data analysis are now able to reveal the issues and events that captivate and unite millions of Americans at any given time.
One way researchers do this is by looking at data from billions of anonymous searches conducted on Bing, Microsoft's search engine. The resulting lists of searches, from top celebrities to the most impactful news stories, offer a snapshot of what grabbed America's attention in the past year. These numbers give a unique perspective on the moments and people that shaped the year and made it memorable.
One of the most apparent trends in the Bing search results is that 2015 was a year in which strong and talented women were recognized as a prominent source of leadership and inspiration.
A year of embracing change and identity
The chilling events of the Paris attacks, the heartbreaking images of refugees and the devastating earthquake in Nepal topped the list for most searched news stories. Other top searches reveal Americans in 2015 were eager to confront these global tragedies with an attitude that embraced change and looked forward to a more open future.
This was evident in the list of most searched for celebrities. At the top of this list was Caitlyn (formerly Bruce) Jenner. After coming out as a transgender female, the former Olympian and TV reality star gave a powerful interview on 20/20, posed for a now iconic Vanity Fair cover and won the Arthur Ashe Courage Award at the ESPYS. Jenner's story inspired millions to find out more and learn about identity issues through online searches.
Second on the list was singer Miley Cyrus, which proves colorful antics and outfits are still attention-grabbing. Third was singer Taylor Swift, whose high profile grievance with Apple Music led her to becoming the youngest woman to make the Forbes Top 100 Most Powerful Women list. Both Jenner and Swift took a stand that became a source of inspiration to millions, and showed celebrities can provide a showcase for social issues.
Sports
Women not only dominated the Top Searched for People list, but Bing's 2015 Most Searched Athletes list as well. There were twice as many women on the list in 2015 as there were in 2014, and in many areas, women took top honor in fields previously dominated by men. For example, Ronda Rousey, became the second most searched for athlete of 2015 following her high-profile UFC fight against Holly Holm. And in fact, their fight was the most searched UFC fight of the year, male or female.
Serena Williams, already a legend on the tennis court, triumphed not only at Wimbledon, the French Open and the Australian Open, but completely dominated her male competition when it came to searches – with more searches than the top five male tennis players combined.
In addition to the top people and athletes that captivated the minds of America, there are many more lists and data that are sure to lead to thoughtful conversations as the year comes to a close. Looking back at the billions of searches conducted on Bing this year reveals the powerful moments and the people that stood out above the rest to make 2015 memorable. The complete list of Bing search trends is available at BingTrends.com.