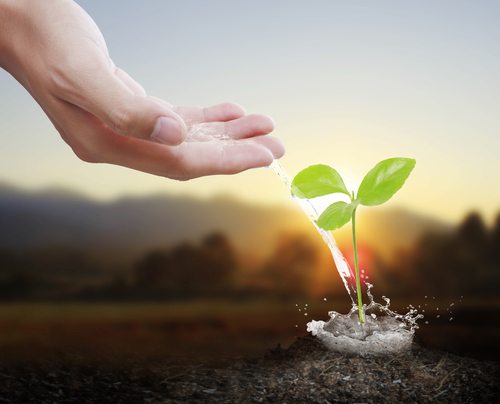 As a gardener — either novice or experienced — you need tools that will help you properly tend your plants. There are a number of shared tips and tricks that gardeners employ, and new technology is helping expand nature-related knowledge. There are many gadgets on the market that will help you display your plants in a new way, promote eco-friendly and sustainable agriculture, and help you stay in-the-know about the specifics of your garden's growth. Here are four tech gadgets that will enhance your green thumb:
Water Garden
The Water Garden, formerly known as the Aqua Farm, is a hydroponic system that grows food. The garden is atop a self-cleaning fish tank that utilizes the ammonia-rich waste into nitrates. The symbiotic relationship helps keep the tank clean for the fish and the plants adequately nourished. The process of aquaponics helps reduce water use — it uses 90 percent less water than traditional farming. The kit includes a fish tank and gravel, organic seeds and grow stones, natural fertilizer, a coupon for a betta fish, fish food and a silent, submersible water pump. The seeds provided are USDA organic, non-GMO and from USA soil.
Solar-Powered Glowing Pot
Enhance your garden with an multi-color lighted pot. This solar-powered pot is equipped with internal LED lights that automatically change hues, which makes it ideal decor for a party or special occasion. The pot achieves a full charge after a full day of sun exposure for 8 to 10 hours of use. It is an eco-friendly system that will help bring your garden to life at night. The pot can also be used indoors as a vase for any fresh-cut bouquets.
Parrot Flower Power Plant Monitor
The Parrot plant monitor keeps track of your plant's vitals and monitors the environment's sunlight exposure, temperature, fertilizer levels and moisture. The device sends the status of your plant's health to your smartphone, so you will know what your plant specifically needs. The stats acquired from the plant monitor are logged and displayed through a real-time chart. The app also has a plant fact sheet of more than 7,000 plants, so you can gain knowledge about your plants' origins and basic needs. The Parrot plant monitor system works with iOS and Android systems, connects with Bluetooth, has a six-month battery life and is water-resistant for indoor and outdoor use.
Garden Cam
The Garden Cam is ideal for garden monitoring, so you have an extra set of eyes that can detect any pest infestation. The camera is also ideal if you wish to witness the growth process of your garden. The camera is a 1.3-megapixel camera that takes high-quality time-lapse photos. There are multiple interval settings of one minute, five minutes, 30 minutes, one hour, four hours and 24 hours. The lens of the camera can adjust for close-ups, so you can capture the details of a flower blooming. The photos are stored as jpegs in a 2GB USB drive. The camera will enter sleep mode between photos, which helps extend its battery life.