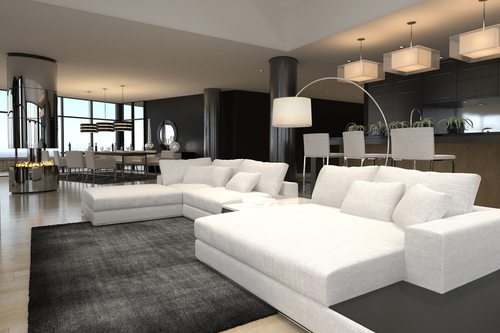 Humans have always had a fascination with the future. Vast potential and possibility creates uncertainty that excites our curiosities—technologically and stylishly, even down to our home's interior design theme. If you're drawn to futuristic elements and an avant-garde look, use the following style tips to inspire a contemporary, individualistic interior space. Yet, for the most advanced surroundings, you may first want to discover urban innovation in one of the most futuristic metros in the world.
Cities of the Future
When it comes to the world's cities of the future, the U.S. leads the way with its City of Angels, ranked as the No. 1 city showing you what the future will look like, according to Wired.com. And Los Angeles is in some good company, topping the list against innovators like Shanghai, San Francisco, Nairobi and Dubai.
So, what's innovating in the Cali hotspot? Here's why to plant yourself in the hub of futuristic technology and forward living.
LED street lights link wirelessly to the Bureau of Street Lighting to alert that they are on, off or broken
An LAX makeover valued at more than $8 million features upgraded concession stands and moving walkways, along with a swanky, private traveling space for the celebrity elite
Landscape architects developed the new "California Dry" look made up of drought-resistant flora
L.A. ups the ante on its hip entertainment scene with a mobile opera that cruises downtown for street performances and urban interaction
Does heading to the movies on a Saturday night suddenly sound incredibly underwhelming? Head to The Golden State (permanently!) for trendy L.A. living and the progressive city is yours to explore.
Futuristic Interior Color Scheme
Retro, vintage, warm and whimsical—that's exactly what to avoid for designing a futuristic space in your new L.A. home. For the ultimate contemporary look, create a minimalist space saturated in the color white, softened with shades of beige, cream and gray. The stark whiteness of a room gives off an outer space vibe, as if you're lost in a faraway galaxy. A white space also offsets bold decor pieces, neon or LED lighting and high-tech gadgets like a sleek transparent HDTV. For an accent color, make a statement with striking hues like black, orange, red or aqua.
Shapely Designs
The most futuristic homes aesthetically interrupt the experience of a space with unexpected slanted ceilings and sharp rectangular furniture pieces, for example. Corners practically jut out with attitude, arbitrarily and asymmetrically, creating a mix and match of geometric patterns from the ceiling to the floor. With such strong and detailed furnishings, the space has a life of its own without much need for decorative flair. Cast shadows become natural, yet trendy embellishments. Fierce focal points, like a rotating hanging fireplace centered in a living room or multi pendant lighting suspended over the kitchen table, intensify the space without much effort. An illuminating chandelier with sustainable lighting in a modern design like ocean waves, a floating circle or intricate sphere can also make a glowing statement.
Furniture of Tomorrow
In a space with futuristic energy, abstract artistry and visual interest trumps functionality and convenience. TrendHunter.com identifies futuristic furniture as pieces crafted using techniques like geometric shapes, metallic colors and space-related references. Surround your kitchen table with black shell or white floating-style chairs. Origami-inspired furniture like sleek end tables, lampshades and coffee tables add unique edginess and eye-catching detail. For cosmopolitan comfort, go for an oversized sectional leather couch in a neutral hue. Then add a pop of color with an accent sofa in an innovative design. Decorative minimalism with powerful standalone pieces and strong attention to detail is key for creating that contemporary feel.