Motorola took what you liked about the Droid Turbo and improved it by adding a nearly indestructible screen for the Droid Turbo 2. With increased specs and this great screen, is it worth upgrading? Lets take a look.
Motorola has increased the overall size of the Turbo 2 by about .3 inches but decreased the weight by roughly .3 oz. This might not seem like much weight reduction, but increasing the size at all, makes is a feat to lower the weight. The weight of the Turbo 2 is 5.96 oz which puts it right about in the middle for weights of comparable smart phones.
The screen has been increased .2 inches to 5.4 inches. The screen itself is POLED Quad HD with a pixel density of 540ppi. This allows for some of the clearest movie and picture viewing as well as having ShatterShield. The ShatterSheild made testing fun as when I would show off the phone, I would pound the screen against a bar top, beer bottle, or any other hard surface I could find. You could see the people wince as I did it, but the screen came out with no cracks, chips, or scratches. This is something I can't say for most other phone screens right now. Only issue I ended up with doing as many shatter tests as I did, I ended up with several dead pixels as you could see in the one picture as well as a dead spot on the touch screen. The screen itself held up perfectly.
The camera is a top of its class 21 MP. This thing will darn near replace any camera you carry around with you, allowing you to get the best pictures and home movies you could hope for.  There are dual flashes and the lens aperture is f2.0 Features include digital zoom, Auto Focus, Touch To Focus, Burst Mode, HDR Mode, Panorama Mode, and Night Mode. Video capture is 4K at 30 FPS and 1080P at 30 FPS. The front camera is 5MP and features it's own flash. As you can see with the picture and video, the Turbo 2 does work very well in real world conditions, not just with bench testing.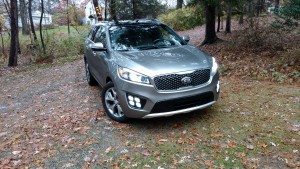 To keep the Turbo 2 running at top speed, Motorola has used a Octa-Core Processor provided by Snapdragon and a Adreno 430 Graphics Chip.  There is 3GB of system memory to help keep the Turbo 2 running in prime shape. For those of you who like to store tons of music and video's on your phone. There is 64GB of built in memory with expandable storage via microSD for up too 2TB of storage. This is one of the great features I wish more phones had was the microSD card slot so you can gain more storage on the cheap. The phone accepts microSD, microSDHC, and mciroSDXC cards.
Battery life is rated at up to 48 hours thanks to a 3760 mAh batter that is not user replaceable. While I agree that this is a great battery, I never achieved anywhere near 24 hours, the 10-12 I got under "normal" use was impressive. Under "heavy" use which included lots of gaming I was lucky to get 6 hours. I know this isn't typical of most users, but since I game a lot on my phone I figured I would give you the low end as well as the top end of my battery life.
On of the great things I feel they have added to the Turbo 2 from the Turbo is they have added back in a microSD card slot so you can expand your memory without having to pay a ton of money for it. The microSD card slot
The Droid Turbo 2 comes with a rapid charger. According to Motorola, this charger will give you up too 13 hours of battery life with just a 15 minute charge. While I can't testify to those numbers, I did get the phone from dead to 20% battery life in about 15 minutes. Doing the math, that is close to the numbers that they give. One thing I did notice with the Turbo Charge is the battery does warm up more than a standard charger or using Wireless Charging. The Turbo 2 can Wirelessly Charge using both Qi and Powermat charging platforms. The wireless charging rate with the Turbo 2 is about the same as being plugged into a standard charger.
The radio on the Turbo 2 provides you with Verizon's 4G LTE network. It also has support for VOLTE. You also get Bluetooth 4.1 Wi-Fi a,b,g,n and 5 GHz n as well as ac. This gives you the ability to use Wi-Fi on older routers as well as brand new top of the line models as well, and NFC.
So what did I love about the Turbo 2? First is the extended battery life and the Turbo Charge. Nothing is worse than a dead battery, but if you happen to get one, the Turbo Charger will get you back up and running in no time flat. Next is the ability to expand your memory with a microSD card. This gives you the storage you want without having to spend tons of money getting it. Third is the wireless charging. I feel every phone should have this.
What do I wish this phone had? Wi-Fi calling. For those of us who have bad signal in our basements, I wish we could do Wi-Fi calling. I don't really want to buy a range extended for this when my house is filled with Wi-Fi.  I know this isn't a Motorola issue but I still wish Verizon would allow this. I also wish the back of the phone has a little more grip to it. While it's not slippery, I don't want to have to add a case to this phone when the screen is nearly shatter proof.
Overall, if you are looking to get into Android phones or just wondering if you should upgrade to the Turbo 2 I would say it's well worth the upgrade.