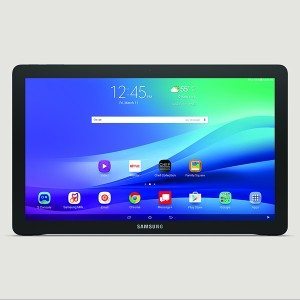 NEW YORK — Get ready to rethink how you consume content. The new Samsung Galaxy View, available now from Verizon, features a portable design that lets you enjoy a big-screen, TV-like experience from any room in your home using Verizon's 4G LTE network.
With an 18.4-inch full-HD display, powerful stereo speakers and an easy-to-use interface, consumers can switch between all the TV and entertainment content they love with the swipe of a finger. Using the device's built in grab-and-go handle and powerful battery, consumers can take the Galaxy View where ever they go.
This is the perfect mobile multimedia device for young professionals or college students looking to bring an entertainment center to their apartment or dorm room — with no set top box or extra equipment required — and still keep connected with friends and family using Verizon Messages. For parents, the Samsung Galaxy View is the perfect device to binge-watch your favorite shows in bed while the kids are asleep or to watch sports when the kids take over the TV. Need to find a recipe while you're baking but find a phone too cumbersome to hold in the kitchen? The Galaxy View has a built-in stand that allows for easy and stable hands-free usage on a flat surface or on your lap.
With the Galaxy View, everything you love is at your fingertips. Easily switch between movies, live TV and your favorite touchscreen apps via the simple-to-navigate grid menu – with your finger as the remote.
The rest of the specs:
6Ghz 8-core Processor
Android Lollipop 5.1.1 operating system
1 megapixel front-facing camera
64GB on board [add an additional 128GB with a microSD card[1] (portion of 64GB occupied by existing content)]
LI-ION battery with 8 hours battery life2
Get into the groove
The Samsung Galaxy View is the perfect match for the new Samsung Level U Pro, a wireless headphone system that features high quality audio over Bluetooth, allowing you to further immerse yourself in the sounds you love. The headphones are available online and in stores for $99.99, in black and bronze.
Pricing and availability
Get the new Samsung Galaxy View from Verizon today for $24.99 per month for 24 months with Verizon device payment plan (0% APR; full price $599.99). The tablet is also available for $499.99 with a new two-year activation. You can add a Galaxy View to your existing Verizon plan for an additional $10 per month (plus taxes and fees). The Verizon plan is available in five sizes, from size S with 1GB for $30/month to XXL with 18GB for $100/month, plus taxes and fees, and allows you to share data across up to 10 devices.
Check out the new Samsung Galaxy View, the Samsung Level U Pro headphones and all the latest Samsung devices, including the Galaxy S7 and S7 edge at verizonwireless.com.
Verizon Communications Inc. (NYSE, Nasdaq: VZ) employs a diverse workforce of 177,700 and generated nearly $132 billion in 2015 revenues. Verizon operates America's most reliable wireless network, with more than 112 million retail connections nationwide. Headquartered in New York, the company also provides communications and entertainment services over America's most advanced fiber-optic network, and delivers integrated business solutions to customers worldwide.
####
VERIZON'S ONLINE NEWS CENTER: Verizon news releases, executive speeches and biographies, media contacts and other information are available at Verizon's online News Center at www.verizon.com/news/. News releases are also available through an RSS feed. To subscribe, visit www.verizon.com/about/rss-feeds/.
[1] microSD card not included. Must be purchases separately.
2 Based on laboratory testing. Results may vary. Battery power consumption depends on factors such as network configuration, carrier network, signal strength, operating temperature, features selected, vibrate mode, backlight settings, browser use, and voice, data and other application-usage patterns