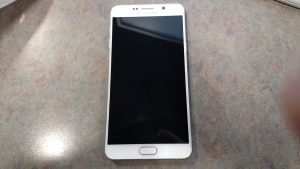 Looking for an upgrade for your Note 4 or other Samsung Device? The Galaxy Note 5 for Verizon Wireless takes what you loved of your Note 4 and packed it in a slightly smaller package to make it more efficient for you for both business and fun. Lets see how it held up.
The Note 5 has been my primary device for several months now. One of the best things I fell is the fact that the Note 5 is just slightly smaller than the Note 4. I found it much easier to hold and use one-handed for texting. Also it is still large enough to make sending a quick email comfortable when typing.
The screen has a resolution of 1440 x 2560 with a pixel density of 558 ppi. This gives the SuperAMOLED screen one of the best pictures you can get in a cell phone right now. You can watch movies and YouTube clips with as clear and crisp as watching your HD TV.
The Galaxy Note 5 is powered by a Exynos 7 Octa 7420 processor. This processor has 4GB  to keep it running at top speed. For your files and video's there is up to 64 GB of user available space. Unfortunately there is not space for a microSD Card slot. This is one of the down sides to this phone.
There is a 3000 mAh battery that Samsung says will keep the phone powered for up too 22 hours of talk time.  I've got between 6-8 hours of normal use on the phone before needing to recharge. If you are a heavy gamer and play video intensive games, you will only get about 2-3 hours tops. While this seems like a short amount of time, the Note 5 features rapid charging. This allows you to charge you phone with the compatible rapid charger from empty to full in 1 hours.
The Note 5 also features wireless Qi and Powermat charging. This allows you to buy a compatible charger and just set your phone on the charging pad or power bank and charge your phone without ever having to plug-in a cable.
If you like taking a picture, you will be happy as the Note 5 has a 16 MP camera with F1.9 aperture with a 21mm focal length. This will give you professional quality photo's from your pocket without the added cost of hiring a photographer. You can also record 4K video that will look just as good on your phone as on your Samsung 4K TV
If you use your phone for navigation, the Note 5 is great do to the large screen size and both the A-GPS and GPS positioning. Now you can replace your standalone GPS with one device you keep with you all the time.
Another great feature that is available on the Note 5 as well as the Galaxy S7 and S7 Edge is Samsung Pay. This gives you a card free pay option that is available in more areas and businesses that both Apple Pay and Android Pay. All you have to do is have a card with a participating Bank/Credit Card Company, Scan the card, Confirm the information and you are good to go.
Overall, the Note 5 from Verizon Wireless is a great phone. With the large screen, good battery life, and memory to keep the phone at prime as long as it's on. Only downsides I have found is the short battery life and the lack of a microSD card slot. Thankfully the included 64GB of memory is there.
If you are looking to get  a Note 5 on the Verizon Wireless Network, you can expect to pay $29.00 a month for a 32GB variant or $33.00 for the 64GB version. Full retail is $696 and $793 respectively. You can pick up this phone and get a 4G LTE play starting at $30 a month with 1GB of data.