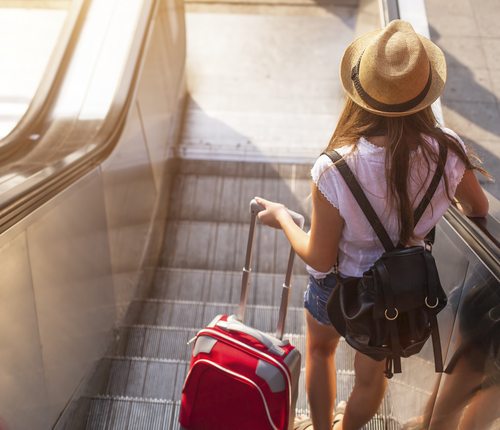 Whether you travel frequently for business or enjoy a yearly trip to see friends and family, it can be a stressful experience. From worrying about lost luggage to keeping tabs on all of your personal electronics, flying the friendly skies is sometimes easier said than done. Fortunately, there are a variety of gadgets that can help you get through your next trip with ease. For example, check out these:
A Bluetooth-Connected Luggage Tag
If you lose your luggage, computer bag, or backpack—or simply leave them behind at the airport—not only will you lose all of your stuff, someone can hack into your electronics. Thanks to the Nokia Treasure Tag, which you can purchase for about $30, you will get an electronic warning that you have left something behind. The small tag needs a standard watch battery to work and then connects to any phone that uses Bluetooth 4.0. If you get in line to board your plane and accidentally leave your laptop case in the waiting area, the tag will beep to alert you.
A Digital Camera
Sure, your phone has a camera, and though it's convenient (since you're going to bring your phone along anyway) there are still some major advantages to having an actual digital camera. From tiny point-and-shoot models to full-size DSLRs with extra lenses, you'll see the difference in quality from your phone's pictures. Sony has some great camera choices, for both amatures and professionals alike. Plus, with a camera, you don't have to worry about your phone battery dying or running out of storage space. Take large-format pictures, use the telephoto or wide-lens features, and don't concern yourself with storage space. Travel pictures are priceless, so don't skimp on the equipment you need to get those photos.
A Portable Laptop Lock
Traveling is tiring, and more than one person has dozed off inside an airport terminal. The last thing you need is to wake up from an unintended nap to discover that some bozo has walked off with your laptop. For less than $25 you can safeguard your notebook computer with a Kensington ComboSaver Portable Notebook Lock. This super lightweight lock, which made Time's list of must-have items for travelers, is made from coiling cable that stretches from 3 inches to 6 feet. Tuck it into your computer bag and then when you set up your laptop in the airport, Starbucks or other public venue, slip the lock into place and the patented t-bar system will keep your computer safe from thieves.
A Travel Charger
To make sure your laptop doesn't die during an important presentation on your business trip or that your smartphone doesn't lose its charge while you are taking photos of your family reunion, you might want to pack extra batteries. The problem with this suggestion is that batteries are heavy and may need an extra cable to run them. Instead, purchase a TYLT Energi 2K Travel Charger for $40; the charger has outlet prongs built right in, so you don't need an extra cable to use it, and you can use it to power up your devices. As a bonus, if you don't have an outlet handy you can still use it to charge up your devices. The brightly colored TYLT model will work when it's not plugged in, as long as it's charged up.
A Small USB Charger
The problem with most phone chargers is that they can be easily lost. Thanks to the NomadKey, you can attach the durable charger right to your keychain. The handy device, which is around $29, is an angled charger that allows you to plug the USB end into a laptop port or other charger and power up your phone from the other end. The whole thing is only 3 inches long and is flexible to accommodate your devices.